LAS VEGAS, Nevada -- The face of poker changed in Las Vegas this week when The Venetian Resort Hotel Casino opened its doors to The Venetian Poker Room. At nearly 11,000 square feet, this luxurious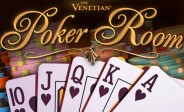 Venetian Poker Room poker room is the largest in square-footage on the Strip and is decorated with rich leathers, cherry wood and custom cabinetry and offers state-of-the-art technology in a smoke-free environment.
This is an exciting time for the gaming division at The Venetian as we have built an incredible Poker Room," stated Kenneth Davenport, vice president of casino operations. "The technology is top-of-the-line, the décor and amenities are unmatched and the table games will cater to all. And, we are thrilled with the finished product, offering both the recreational player and the seasoned veteran an elegant, yet comfortable environment where they will want to play."
The main room will house 32 tables and feature a wide array of games, including Texas Hold 'Em (both limit and no-limit), Stud and Omaha. The game limit runs the gamut at $4- $8 to $4,000 to $8,000. There will also be a high-limit area with seven tables. Additionally, two relaxation sections will be available and equipped with butler service catering to the players needs.
Automatic card shufflers will be on hand at every table, allowing for a faster moving game. Additionally, sign-up lists will be displayed on plasma TVs located strategically throughout the poker room. For the ultimate convenience, if there is a waiting list, a player can check out a pager so that they can enjoy other areas of the hotel. Poker room staff will then alert them as their name approaches the top of the list.
"The Venetian continually upgrades the customer options and experiences," stated Rob Goldstein, President and COO of The Venetian. "In the last year, we have opened Blue Man Group, Tao and our extraordinary pool deck. This spring we open our newest attraction- an unmatched Poker Room at The Venetian. Additionally, Phantom of The Opera will open this summer."
Located on the casino level, adjacent to the sports book, and staffed by an experienced team of professionals, the poker room is opened 24 hours a day, seven days a week.