MIAMI, Florida -- UltimateBet spring boards its landmark 10th Anniversary festivities with the launch of its hotly-anticipated satellites for the 2009 World Series of Poker and the debut of STEP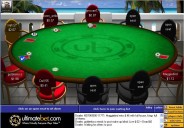 UltimateBet Online Poker Table Tournaments, giving online poker players a shot at qualifying for this year's $10,000 buy in WSOP Main Event in ten simple steps, and for a tiny investment of ten cents.
So, if you want to see how far a dime can take you, enter a STEP 1 Tournament for $0.10, and pass through the finish line of STEP 10 to score the ultimate $12,000 World Series of Poker prize package featuring a Main Event seat and $2,000 for travel and accommodations.
If that's not enough of a gift, UltimateBet is sweetening the pot with a mega 10th Anniversary reward that's doubling the riches for this year's World Poker Champion; wear the UB logo throughout the Main Event, have the ultimate fortune of beating out thousands of other hopefuls to pocket the estimated $10,000,000 1st prize payday, plus you'll also snare a spectacular $10 Million 10 Year sponsorship deal with UB - the home of legendary Pro players Phil Hellmuth and Annie Duke.
"STEP tournaments will see UB qualifying record numbers of online players for this year's WSOP, and with our $10 Million player contract on the table, we're excited about the prospect of discovering poker's next big thing," said UltimateBet Card Room Consultant Annie Duke. "Ten years on, we aim to grow our reputation as the home of the game's most decorated champions, and our standing as the top choice for the world's best poker players."
Celebrating a decade in the online poker landscape is a milestone occasion for UltimateBet, and this year it's all about giving back to the many loyal players who have remained staunch supporters of the UB brand through the years.
The ten year theme continues with the first 10 players to conquer all 10 WSOP STEP Tournaments set to receive a bonus $8,500 2009 Aruba Poker Classic Main Event package, including a $5,500 entry and $3,000 towards travel and accommodation, along with the ticket to the 2009 WSOP Championship event, compliments of UltimateBet.
In the spirit of UB's 10th birthday bash, the STEP 1 buy-in has been stripped back to a incredibly low $0.10, arguably the cheapest way for online players to secure their Seat at Poker's Big Dance, and with hundreds of WSOP seats on the line, here's how you can get a piece of the action:
PLAY - Enter a STEP 1 tournament for just $0.10. Depending on how you finish, you'll do one of the following:
* MOVE to the NEXT STEP - Finish in 1st or 2nd place and you'll secure a spot in a STEP 2 tournament. Finish in 1st or 2nd place of the STEP 2 tourney and you'll move on to STEP 3, and so on.
* TAKE a FEW STEPS BACK - Depending on the tournament, finish in 3rd (and sometimes 4th and 5th) and you'll get to play that STEP again without having to shell out cash.
* GO BACK to the DRAWING BOARD - The bad news is you didn't finish high enough to proceed to the next STEP. The good news is you can enter another STEP 1 tourney for just 10 cents and try again. Or join the fun at any STEP of the way to suit your budget by buying in directly to the tournament with cash.
In short, STEP Tournaments at UltimateBet are great value for money, allowing players to buy in for just a few cents. Finish in the top two to 'step' up to a richer game, or finish outside of first and second spot to step backwards with the option to try again. It's that simple.
A full rundown on UltimateBet's 2009 WSOP Satellites and STEP Tournaments can be found at UltimateBet.com.
Ultimate Bet is one of the most respected poker sites online and is endorsed by professionals like Annie Duke and Phil Hellmuth. The site offers Texas Hold'em, Omaha, Omaha 8/b, 7 Card Stud, 7 Card Stud 8/b, Crazy Pineapple, Crazy Pineapple 8/b, Triple Draw, Royal Hold'em. Table limits range from penny games up to $300-600.