BILOXI, Mississippi --The largest prize pool of any Southern Poker Championship tournament thus far was generated in Event #12. The $1,000 buy-in No-Limit Hold'em poker tournament created a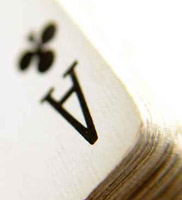 prize pool totaling nearly half a million dollars. All the action took place inside a packed ballroom at the Beau Rivage Resort & Casino in Biloxi.
Jordan Smith, from College Station, TX overcame a world-class field of 484 entrants and collected $119,228 for first place (Note: This was the official payout. A deal was actually made). Following his biggest poker win ever, Smith was presented with the custom-designed white gold and diamond bracelet, which is the top prize at all SPC events. He will also play in the World Poker Tour championship event starting on Jan. 14th, since a $10,000 seat was part of the winner's package.
Smith is a 27-year-old poker pro who has both dealt and played the game. He was the chip leader during most of the latter stages of the tournament. Smith wanted to credit his parents for their support of his decision to play poker. "I have the best parents in the world," he said.
This was one of eight No-Limit Hold'em tournaments included on this year's schedule. Only the top 45 finishers collected prize money. After 454 players were eliminated on the first day consisting of 14 hours of competition, the 30 survivors started off playing at four tables on day two. It took another five hours to play down to the final nine. The final table started off with Smith (the eventual winner) enjoying a sizable lead. But every player had more than enough chips to be dangerous. Players were eliminated in the following order:
9th Place – Bobby Keller was the first player to exit. The Biloxi-based part-time real estate investor playing in his hometown had previously cashed in a number of small tournaments. But this was his first chance to make a big score at the poker tables. He was forced to settle for ninth place, which paid a commission totaling $7,352.
8th Place – Rich Ebhardt had made it to three previous final tables in Biloxi – which ties him with Brent Carter for the lead at this year's SPC series. He was somewhat displeased to be sitting in Seat 1 each and every time (Note: Seat 1 is considered by some players to have some disadvantages since it is difficult to have a clear vision of the entire table). But Ebhardt did not remain in his unlucky seat for long. He was eliminated just a few hands into play and settled for eighth place. Ebhardt is a merchant marine from Hernando, CA and sailed off with $11,946.
7th Place – David Diaz was dealt a bad break when he picked up pocket queens, but ran into the worst possible scenario -- Mark Eddleman's pocket aces. A queen failed to rescue the Honduran-born Diaz, who ended up in eighth place. Diaz, a poker pro who now lives in Memphis, added $16,541 to his poker bankroll.
6th Place – Derek Palmer, a fence installer from Minnesota was glad to be out of the cold and playing poker down in Mississippi. On his last hand of the tournament, he moved all-in with A-7 which lost to pocket fives. Palmer received $21,136 for sixth place.
5th Place – Next came the battle of the doctors. Dr. Matthew Colvin was eliminated when his A-Q connected for top pair after an ace on the flop. But another doctor, Ken Cleveland turned a set of nines. The trips held up and discharged Colvin from the final table. Fifth place paid $25,731.
4th Place – If any player had justifiable reason to be disappointed with a $30,326 payout, it was Mark Eddleman. On his final hand, the poker pro from Arkansas flopped top pair, with top kicker (A-J with the board showing J-9-5). But Jordan Smith had his opponent covered and had 10-9, good for second pair. The river brought a dream-killing ten for Eddleman who watched his cards hit the muck as Smith scooped up the chips with two pair. Nevertheless, Eddleman is certainly doing many things right. Since playing poker full-time a few months ago, he already has four cashes and three final table appearances.
3rd Place – Dr. Ken Cleveland, from Jackson, MS went deep in the event but eventually busted out in third place. In what was probably the most critical hand of the entire tournament, he lost most of his chips when he moved all-in with A-8, which was called instantly by Jordan Smith, holding A-K. Cleveland picked up an outside straight draw but missed everything, and then went out a few hands later after a deal was made. Cleveland's official payout amounted to $36,758.
2nd Place – When heads-up play began, the two finalists agreed to a chop. The tournament abruptly ended as no more hands were dealt. Otis R. Anderson, from Sugarland, TX was officially listed as the runner up, with $64,326 in prize money. This was Anderson's fifth time to cash in a WSOP or WPT event.
1st Place – Jordan Smith's poker nickname is "Scarface 79." This marked his 17th tournament cash in just three years. His best previous finish was ninth place at a World Poker Tour event in 2007.
Through the conclusion of the first 12 events, a combined 4,221 players have now entered this year's SPC. With this event, the total payout amounts to $2,255,995 in prize money paid out to winners. The Beau Rivage tournament series ends on January 17th.
World Poker Tour (WPT)
5700 Wilshire Boulevard
Suite 350
Los Angeles, CA 90036
Phone: 323-330-9900
Fax: 323-330-9901
Website: www.worldpokertour.com

The World Poker Tour (WPT) can be seen in more than 116 countries and territories throughout the world. WPT consists of 17 high stakes poker tournaments filmed at glamorous locations throughout the world, including Bellagio in Las Vegas, Foxwoods Resort Casino in Mashantucket, CT, Aviation Club de France in Paris and the Borgata in Atlantic City. Each year the Tour culminates in the WPT World Championship in Las Vegas at Bellagio in April, drawing the leading pros and accomplished amateurs from around the world for an $8-12 million prize pool.