Play Video Poker at Roxy Palace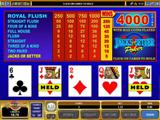 If you are looking for the extra edge that goes with knowledge, Roxy Palacel can help you learn what you need.
PartyPoker

PartyPoker is the undisputed leader in poker on the Internet with over half of the people who play online playing at the site. The software has recently been upgraded with additional features and functions that look to bring more popularity to the poker leader. Look for customizable table skins, multiple tables, and more in the new release. ReadyBetGo! has arranged a promotion with PartyPoker to provide all new players a $25 dollar gift, payable upon first deposit! Just enter the code 'READYBETGO' upon signup.
AUSTRALIA - Australian Andrew Milner built a poker table equipped with RFID chips for every single card and HD cameras to track every movement. His setup can even tell where cards lie in a full,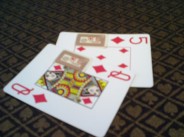 New Poker Cards with Embedded RFID Chips vertical deck.

Tiny RFID cards are attached to each card, and movements are monitored with four separate HD cameras, all running into a video encoder to create a live feed. A custom bit of software mixes the feeds with the data from the RFID chips, creating a live feed where the viewer can see exactly where each card is and what each player is doing. Even when in a full deck, the RFID chips are thin enough to stack properly, and the viewer would know when each card will be dealt.

Apparently the setup cost Milner about $7000 and three months to build, but it's very impressive for what it is. Why anybody would want to have this sort of thing outside a television studio doesn't make much sense to me, but Milner, a chairman of an IT company, loves the level of detail it brings to his games.