Jackpot Sit 'n' Go Tournaments!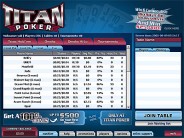 Titan Poker's jackpot sit 'n' go tournaments are extremely popular and attract veteran and novice poker players alike. The tournaments start immediately when enough players join the table, and tournament winnings are distributed according to the site's regular payout structure. If a skillful player succeeds in winning the appropriate number of consecutive tournaments, he is also entitled to receive a huge jackpot prize.
NEW YORK -- Playboy Enterprises, Inc. announced today a partnership with Moneymaker Gaming to develop and produce its first-ever Playboy Poker Camp. The camp will feature world class instruction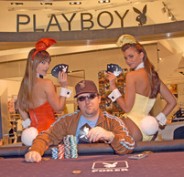 Chris Moneymaker enjoys poker and Playboy Playmates.
from some of poker's top players, including WSOP Champion Layne Flack and Jim "Krazy Kanuck" Worth. Additionally, the poker camp includes nightly poker tournaments with prizes of more than $100,000 and events with Playboy Playmates, all of which culminate with a lavish party at the legendary Playboy Mansion.
With instruction for beginners to advanced players, packages start at $4,999 for the four-day, four-night event. The first camp will be held in January 2007 at Morongo Casino Resort and Spa, near Palm Springs, California. Registration begins today at playboypokercamp.com .
"Chris Moneymaker has built the strongest brand in poker today, and we are thrilled to team up with him to create an incredible poker camp such as this," stated Sarah Haney, vice president, licensing, Playboy Enterprises, Inc. "We've enjoyed such success with our co-branded poker products that we wanted to bring something more to the table for poker aficionados everywhere."
"I've been living a dream since winning the 2003 World Series, and I want to give my fans a taste of that," said
Chris Moneymaker
, co-founder of Moneymaker Gaming. "Playboy Poker Camp will offer a once in a lifetime chance to play alongside the best players in the world, hang out with Playboy Playmates, and compete for more than $100,000 in prize money. This will be the ultimate poker experience."