Online Poker
by Doyle Brunson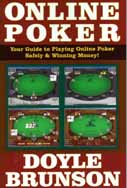 Poker's elder statesman teaches the novice what to expect in the world of online play including providingmore than two dozen poker strategies and identifying online 'tells.' In a dozen concise but well-illustrated chapters he discusses the impact of televised poker and how online poker now ushers in a new era. One chapter offers a list of places to play with information on where you may learn to play or discuss the game and the benefits of online learning. Brunson discusses how to download software, fund your account, and how to get a taste by playing small money before advancing to bigger.
Read a review of Online Poker
PartyPoker

PartyPoker is the undisputed leader in poker on the Internet with over half of the people who play online playing at the site. The software has recently been upgraded with additional features and functions that look to bring more popularity to the poker leader. Look for customizable table skins, multiple tables, and more in the new release. ReadyBetGo! has arranged a promotion with PartyPoker to provide all new players a $25 dollar gift, payable upon first deposit! Just enter the code 'READYBETGO' upon signup.

Obama's 'Citizens Briefing Book' website
Read more about the suggestion of legalized online poker as well as the other thousands of suggestions for change presented to President-elect Barack Obama.
WASHINGTON, DC - Many suggestions have been made on Barack Obama's "Citizens Briefing Book" website. Even with all the core issues facing Americans today, one of the most popular suggestions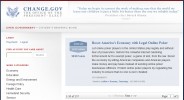 Obama's briefing book showing online poker as a top tech issue for American raised has been to legalize online poker in the United States.
The site has been set up by Obama's transition team to allow American's to express their opinions and suggestions on what should be key issues for the President-elect to tackle during his term.
People can log onto the website citizensbriefingbook.change.gov to read ideas and suggestions, as well as vote on whether they agree or disagree with the suggestions. Items that receive the greatest amount of votes will be brought to the attention of Obama's transition team and promised to be seen by the President-elect.
On Monday, January 12th a citizen with the username AAHue posted the following suggestion which quickly rose to the second most popular idea and is promised to be seen by the President-elect:
Boost America's Economy with Legal Online Poker
Let online poker players in the United States play legally and without fear of prosecution. Reform the Unlawful Internet Gambling Enforcement Act to exempt poker, a game of skill, from the law. Boost the economy by letting American companies and Ameican (sic) players make money and pay taxes instead of sending online poker businesses offshore. Protect online poker players by regulating the industry to ensure that no one is ever cheated.
More than 38,000 people have already voted on this suggestion and it is growing in popularity every day. There are also more than 1100 comments on the subject of legal online poker. If you would like to cast your vote and increase the popularity of this suggestion, simply go to citizensbriefingbook.change.gov/ideas/viewIdea.apexp?id=087800000004m5M to view and vote on the suggestion.
Individuals must register to cast their opinion and make suggestions, but the process takes less than a minute. Let your voice be heard whether you are for or against online poker.