PALM SPRINGS, California – As reported by the Desert Sun: "League poker is finally coming to our area, and that's exciting news. Casino Morongo's Tag Team Poker League begins Sept. 6, and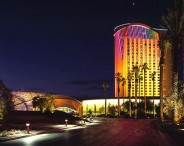 Morongo Casino now offers league poker.
continues every Wednesday night through Dec. 13.
"'League poker is great fun because, for once, it's not every man (or woman) for themselves. You've got a teammate, and their winning play benefits you, which is a completely different mindset than any other approach to the game.
"'Morongo has set-up their league in a very appealing format. The teams will consist of two players who alternate playing during the course of the tournament. Each team member sits in for 20 minutes, then sits out for 20 minutes and the game changes each time the player changes.
"'The basic game will be Limit Hold 'Em, and the alternate game will be either
No-Limit Hold 'Em
,
Omaha Hi-Lo
, or Crazy Pineapple. It will work like this: at the start of each weekly tournament, one of the three alternate games will be randomly chosen. Limit Hold 'Em will start it off, then the game that is selected from among the other three will be played every other round.
"'The prize package is awesome. First off, there is the tournament pay-out for the winning team of the week. Then, at the end of the 14-week schedule, based on accumulated points, the top 10 teams will compete in the league championship. All teams in the championship round will win cash and prizes. In addition, the first place team gets two $10,000 entries to the 2007 World Series of Poker.
"'The cost for each player is $100 to register, plus $35 per week. Registration is going on right now in Morongo's poker room. Go for it. Team poker is a unique experience, and besides, what else do you have to do on Wednesday nights? I promise it'll be more fun than sitting in front of your computer playing online.. . . "
Morongo Casino Resort & Spa
49500 Seminole Drive
Cabazon, CA 92230
Toll Free Phone: (800) 252-4499
Website: www.morongocasinoresort.com

The Morongo Casino offers nearly 150,000 square feet of gaming action. Choose from 2,000 slot machines or 100 table games. There is also a private 22-table poker room. The casino is open 24 hours.