Event #28: $1,500 No-Limit Hold'em
Highlights:
1. Mike "the Force" Eise Wins First WSOP Gold Bracelet
2. St. Louis-Area Pipefitter Wins $639,331 First Prize
3. 2009 WSOP Continues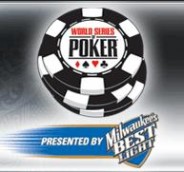 to Roll -- $1,500 Buy-In No-Limit Hold'em Event Draws another Big Crowd
On how his goals changed as he went deeper in the tournament: "I had benchmarks. I just wanted to reach benchmarks (last the first day, making the money, etc.) and as I reached them I made a new benchmark and then I reached it again. With 2,600 people (who entered) you can't expect first. But you hope for it."
· On his poker club in St. Louis: "Its called the 'Wanna' Be Poker Series.' I guess it's the 'To Be Poker Series" now, since I'm not a wanna' be anymore."
· On what his plans and goals were before his WSOP victory: "This is the only event I played. This is the only event I wanted to play. I wanted to concentrate on this. So, I didn't play any other ones. I figure 'one event = one win' really means something."
· On what he plans to do with the money: "I have kids to take care of, and health insurance, and I plan to keep going at what I'm doing. But my three little girls are going to be excited because I'm going to take them to Disneyland."
· On if the win and $639,331 in prize money is life changing: "Definitely."
The Final Table --
· The final table contained no former WSOP gold bracelet winners. This was the tenth of 29 finales held so far this year with no former winners -- which guaranteed a first-time champion.
· The runner up was Jeff Chang, from New York, NY. This was his first time ever to cash at the WSOP. Chang works as a private equity trader.
· The third-place finisher was Rico Ramirez, from Centennial, CO. He is a retired former police officer. Ramirez also served in the U.S. Air Force. This was Ramirez best tournament performance ever and marked his first time to cash at the WSOP.
· The fourth-place finisher was Jason Potter, from Tulsa, OK. He won a WSOP Circuit event held at Caesars Indiana last year. Potter, a recent graduate of Oklahoma State University, was cheered on by the loudest crowd of supporters yet at this year's WSOP. Every hand he played, the crowd mimicked the fortunes of their hero. This provided a great amount of final table excitement and drama since rival Mike Eise had his own vocal group of supporters.
· The fifth-place finisher was Barry Berger, from Englewood, NJ. He is a lawyer who has previous tournament wins and cashes at Foxwoods, and elsewhere.
· The sixth-place finisher was Zach Fritz, from Denver, CO. He works as an energy trader. This was Fritz' sixth time to cash at the WSOP and marked his highest finish ever.
· The seventh-place finisher was Avi Braz, from Los Angeles, CA. He is an attorney who has a number of high finishes at the Hustler Casino in Southern California.
· The eighth-place finisher was Jose-Luis Franco, who is originally from Mexico and now lives in Santa Ana, CA.
· The ninth-place finisher was Mike Zulker, from Scottsdale, AZ. He has now cashed in 2 of the 3 WSOP events he has entered.
In-the-Money Finishers --
· Former WSOP gold bracelet finishers who cashed in this event included – Thor Hansen (264th).
·Hansen remains tied for 15th place on the all-time WSOP cashes list with 43.
· Given 270 players received payouts, this was the lowest number of former gold bracelet winners ever to cash in a field of comparable size. A majority of the players who cashed finished in the money for the first time at the WSOP.
Odds and Ends --
· This is the third of seven $1,500 No-Limit Hold'em tournaments on the 2009 WSOP schedule. Aside from the Main Event, this is the most popular game and entry/buy-in level on the schedule, which mandates multiple tournaments being offered.
· The previous two $1,500 buy-in No-Limit Hold'em events held this year attracted 2,791 and 2,506 players respectively. Attendance this year is consistent with previous years when the earlier events tend to attract bigger fields, followed by a slight decline at the WSOP enters its third and fourth week.
· Several WSOP tournaments are being broadcast online this year. Fifteen more events are scheduled, which are split between ESPN 360 and Bluff Media. For a complete broadcast schedule of all events, go to: www.worldseriesofpoker.com/tourney/tourneydetails.asp?groupID=607
· The official WSOP gold bracelet ceremony takes place on the day following the winner's victory. The ceremony takes place on at center stage of the main tournament room and begins during the break of the noon tournament. The ceremony usually starts around 2:20 pm. The national anthem of the winner's nation is played. The entire presentation is open to public and media. Video and photography is permitted by both media and the public.
The Event --
· The $1,500 buy-in No-Limit Hold'em event attracted 2,638 entries. The total prize pool amounted to $3,600,870. The top 270 finishers collected prize money.
· The tournament was played over three consecutive days.
· The biggest two hands of the night took place when Rico Ramirez lost two devastatingly tough hands. First, he had Mike Eise covered and all-in with A-8 versus his opponent's A-9. That turned out to be a huge hand which tipped the balance in Eise's favor. Eise seized the chip lead on that hand when he managed to double up. A few minutes later, Ramirez lost a brutal hand to Eise once again, when he flopped trip jacks. Eise managed to make a full house when he caught a nine on the turn to match his pocket nines. One could argue that critical hand settled the tournament – eliminating Ramirez while at the same time giving Eise a sizable chip lead going into heads-up play.
· When heads-up play began, Mike Eise held more than an 8 to 1 chip leader over Jeff Chang.
· The final hand of the tournament came when Chang was dealt A-J. Eise had 8-7. The flop did not help either player when it showed 6-3-3. Eise could afford to push a bluff and moved all-in with essentially no hand. Chang made a tough (and correct) call holding A-J. The ace-high was in the lead. But a seven on the turn gave Eise a pair, which held up. Eise won, with Chang ending up in second place.
· The tournament officially began on Saturday, June 13th, at 5 pm. The tournament officially ended on Tuesday, June 16th, at 12:20 am.
WSOP Statistics –
· With the conclusion of this event, the 2009 WSOP has reached the midway point in terms of number of events. This is the 29th of 57 gold bracelet events on the schedule. However, the WSOP is no where near the halfway point in terms of number of days. This is 20th of 46 days with tournament play scheduled, not counting WSOP-Europe or the November Nine.
· Through the conclusion of Event #29, the 2009 WSOP has attracted 29,217 entries. $57,532,883 in total prize money has been awarded to winners.