32 Vegas Top Spot for Gamblers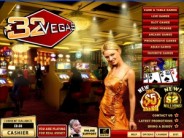 32 Vegas has a huge variety of slot machines, enough to satisfy any slot fanatic. The casino has over 30 video and classic slots to choose from including 7 progressives. You can play as little as a penny per spin all the way up to $5 per line. There are 2,3,5,8, and 9 line slots. Some of the outstanding video slot titles are Gold Rally, Vacation Station and Desert Treasure. Popular classic slots include Fountain of Youth, Bermuda Triangle, and Haunted House. With great variety, fantastic graphics, and innovative themes, 32 Vegas slots are a good thing.
LuckyAce Casino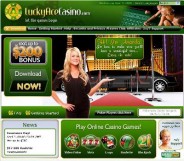 LuckyAce Casino is a new white-label casino that uses 888 software, the same platform that powers one of the oldest and most respected online gambling sites on the web, Casino-on-Net. LuckyAceCasino.com has all the most popular games including: BlackJack, Craps, Video Poker, Roulette, Keno and over two-dozen slot machines with better odds than a Las Vegas casino room. LuckyAce Casino does not accept US players.
Las Vegas, NV - Harrah's Entertainment, Inc. today announced the 4th annual MBA Poker Championship, which will take place January 16-18, 2009, over the Martin Luther King holiday weekend at Caesars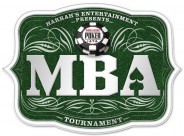 Palace Las Vegas. Sponsors include consulting firm Booz & Company and recovery drink Aftershot.
"Harrah's MBA Poker Tournament is a unique and exciting recruiting event that allows candidates and recruiters alike to get to know each other socially, and the recruiters to see how the candidates perform under pressure," said Nikki Rath, Senior Manager of Campus Recruiting for Booz & Company. "Good poker players think quickly on their feet, have a high quantitative aptitude, and tend to be good at diagnosing people and situations — all attributes highly coveted by our firm. For that reason we will be leveraging this event to offer on-site interviews to first year MBA players who wow us throughout the weekend — be it at the poker table or at other weekend events."
"We've leveraged the worldwide recognition of our World Series of Poker brand to attract MBA poker players and spectators alike to Caesars Palace Las Vegas for what is undeniably one of the most creative recruiting events in the U.S.," said Brad Warga, vice president of talent acquisition, Harrah's Entertainment. "MBAs are more creative than ever in the avenues through which they seek employment, and we are confident that despite the economy, this year's event will continue to attract top MBAs to Vegas."
In addition to recruiting opportunities, MBA Poker delivers sponsors access to the young, educated, crowd. "I attended this event myself as an MBA, and I know it's one of the best venues to target the 'work hard, play hard' MBA crowd," said Aftershot CEO David Spitz, himself a 2006 graduate of the University of Chicago Booth School of Business. "These are people who want to enjoy themselves at night, yet are all business in the morning, and that's exactly what our after-party recovery drink is all about."
The 2008 prize pool totaled close to $30,000 in cash and prizes. Over 1,000 MBA students and alumni from some of the country's best universities–including Harvard, Kellogg, Stanford GSB, UCLA, University of Chicago Booth School, and Wharton–gathered at Caesars Palace. The MBA weekend included a welcome reception, poker tournaments, a wine tasting, brunch with recruiters, and a club night at Pure. Over the past three years, $30,000 from the prize pool has been donated to the Alzheimer's Association.
MBA Poker offers MBA students and alumni alike the opportunity to test their poker skills and their school spirit against 1,000 MBAs from the top schools. For those who prefer to strut their competitive stuff on the dance floor or in an interview, the event also includes a welcome reception, recruiter brunch, and club night. Registration information is online at mbajungle.com/poker.
Caesars Palace
3570 Las Vegas Boulevard
Las Vegas, NV
Toll Free Phone: (877) 427-7243
Website: www.caesars.com/caesars/lasvegas

Caesars Palace is one of the world's best known resort-casinos. At the heart of the Las Vegas Strip, Caesars Palace features more than 3,300 hotel guest rooms and suites, 26 diverse restaurants and cafes, 4.5-acre Garden of the Gods pools and gardens, and world-class health spa and salon services. Its 4,100-seat Colosseum spotlights world-class entertainers such as Celine Dion, Elton John and Jerry Seinfeld, and sits just steps away from celebrity chef restaurants and The Forum Shops. The casino offers a wide variety of slot machines and is well-known for its high quality table game play.