ATLANTIC CITY, NJ -- Six players entered the Borgata Event Center last night, one left a champion. The marquee event of the 2006 Borgata Poker Open lived up to its hype and supplied spectators with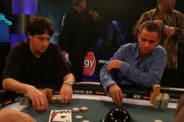 Chris McCormack (left) and Mark Newhouse (right) battle for WPT Borgata Poker Open Championship.
some of the most intriguing and exciting poker play on the
World Poker Tour
to date.
North Carolina's Mark Newhouse captured the title and first-place prize of $1,519,020, beating Chris McCormack in head's-up action. McCormack took home $802,985 for his second place finish. Newhouse (age 21) and McCormack (age 22) were the youngest players at the final table. Newhouse is the second youngest player to ever win a WPT Championship. The two dominated from the early moments at the final table, and the action only continued to heat up throughout the night.
Newhouse, who won his seat to the final table by winning a $1,000 satellite, spoke of how McCormack forced him to adjust his strategy. "On Monday (the final 27) I used my monster chip stack to push the players around and knock them out; I came to the final table with the same strategy. Chris played so well and matched my aggressive play, so I adjusted. I started to lose some confidence as he took the chip lead in head's-up action, but I played my game and won the championship."
McCormack entered the tournament focused on winning, and was noticeably disappointed with his second place finish. McCormack said, "I have come close in past WPT tournaments, but this was the first televised final table and I expected to win. I rebuilt my chip stack during the early rounds at the final table and put myself in the position to win, but this was Mark's night. It is still great to take home over $800,000 and I will definitely be back at Borgata and other WPT events."
Mark Newhouse was smiling as he walked away from the WPT set as champion. "I am ready to take my friends and family to celebrate. I am not sure where we will go tonight, I have really enjoyed all the restaurants at Borgata. I loved Bobby Flay Steak, SEABLUE, and Old Homestead. Borgata is amazing!"
WPT announcer and star player in his own right, Mike Sexton, praised Borgata and explained that the property has the key ingredients to make the perfect mix of atmosphere and great game play that has become the calling card of Borgata.
"Borgata is the perfect fit for the WPT because it's a very classy and elegant casino property, it's the finest property in Atlantic City, and the WPT truly has the greatest venues in the game and it is only fitting that our east coast stop, here in Atlantic City is Borgata." After the production wrapped, Sexton took the crew and many of the players to celebrate at B Bar.
The 2006 Borgata Poker Open broke attendance records and rewarded more money than previous Borgata Poker Open events. The WPT main event, featuring a prize pool of over $5 million, was the biggest tournament in Atlantic City's history.
The World Poker Tour action will return to Borgata in January 2007. The second annual Borgata Winter Open kicks off on Wednesday, January 17 and ends Tuesday, January 30 with the final table. ($9,700 + $300 WPT Event Friday, January 26 - Wednesday, January 30). In the meantime, Borgata's brand new, 85-table poker room, the largest in Atlantic City, will host $50,000 guaranteed daily tournaments each Friday at noon this October ($250 + $30 No Limit Hold 'Em).
Borgata Hotel Casino & Spa
One Borgata Way
Atlantic City, NJ 08401
Borgata is a joint venture of Boyd Gaming Corporation and MGM MIRAGE. Located at Renaissance Pointe in Atlantic City, it features 2,000 guest rooms and suites, 125,000 square feet of gaming, 163 gaming tables, 3,600 slot machines, 11 destination restaurants, 11 retail boutiques, a 54,000 square foot spa and 70,000 square feet of event space.
World Poker Tour (WPT)
5700 Wilshire Boulevard
Suite 350
Los Angeles, CA 90036
Phone: 323-330-9900
Fax: 323-330-9901
Website: www.worldpokertour.com

The World Poker Tour (WPT) can be seen in more than 116 countries and territories throughout the world. WPT consists of 17 high stakes poker tournaments filmed at glamorous locations throughout the world, including Bellagio in Las Vegas, Foxwoods Resort Casino in Mashantucket, CT, Aviation Club de France in Paris and the Borgata in Atlantic City. Each year the Tour culminates in the WPT World Championship in Las Vegas at Bellagio in April, drawing the leading pros and accomplished amateurs from around the world for an $8-12 million prize pool.