Phil Gordon's Little Blue Book
by Phil Gordon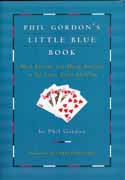 Valuable sections include Cash Games AND Tournament Play; Sit and Gos; Satellites and Supersatellites. Nicely illustrated with many lessons, examples and analysis, it's a balanced, smooth-reading textbook, some of which is based on the author's experience. This balance of common sense, strategies, ploys and an honest appraisal of what was going through his mind when he made his moves adds strength to this powerful, positive pack of lessons. One unique approach is to 'improve at poker is not by finding answers. It is by finding questions,' says champion Chris Ferguson in the foreward. This companion book to Gordon's Little Green Book does just that.
Read a review of Phil Gordon's Little Blue Book
BARABOO, Wisconsin – As reported by the Madison Capital Times: "More than 2 years after packing away the chips, Ho-Chunk Casino north of Baraboo reopened its poker tables at 10 a.m. Sunday


with 40 players filling four tables and more excited gamblers waiting in the wings.
"The casino's table games were removed on June 30, 2004, after a state Supreme Court ruling in 2003 that nullified the gambling compacts Gov. Jim Doyle negotiated with Wisconsin's tribes. That ruling was reversed by the same court in July, and the casino has been training dealers and preparing tables ever since, casino spokeswoman Beth Anacker said.
"The resumption of table games at the casino could mean the addition of at least $70 million to state coffers. After the 2004 ruling, the tribe suspended payments owed to the state under the 2003 compact…"
Ho-Chunk Hotel and Casino
S3214 Highway 12
Baraboo, WI 53913
Phone: (608) 356-6210
Toll Free Phone: (800) 746-2486
Email:
HCHotel@ho-chunk.com
Website: www.ho-chunk.com
With 24-hour gaming and cash prizes daily, Ho-Chunk is one of the premier Wisconsin casinos for gaming excitement. The extensive facilities include blackjack, bingo, more than 2,400 slot machines, and video poker. They also have a high-stakes blackjack room for high-rollers.