LAS VEGAS, Nevada -- The poker world is holding its breath today after a freak accident on the Las Vegas strip in which poker legend Phil Hellmuth lost control of his high-speed race car.
Hellmuth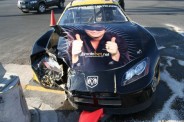 Phil Hellmuth crashed the Ultimate Bet race car in Las Vegas during the WSOP 2007. had spent the day testing the 200 mph racecar in the Nevada desert. Upon approaching his hotel, the 11-time WSOP gold bracelet winner lost control of the vehicle and crashed head-on into a pole. Well, you can't win every race.
While the racecar was totaled, witnesses report that Hellmuth was conscious as he left the vehicle unscathed but visibly shaken. According to one onlooker, Hellmuth quipped, "Well, you can't win every race."
With the Main Event of the World Series just hours away, it's still unknown whether the UltimateBet.net pro will recover in time to vie for the Main Event title and a 12th WSOP bracelet.
"I'd be amazed if he was able to play poker today after such a high-speed collision," stated eyewitness Brian Balsbaugh of Poker Royalty. "He had severe whiplash."
Hellmuth's Main Event start time was scheduled for 12pm on Monday, July 9th. While friends are no doubt praying for a quick recovery, foes are likely relishing in his misfortune. After all, Hellmuth's absence from the floor at the Rio Hotel & Casino definitely makes the playing field a lot less fierce.
Ultimate Bet is one of the most respected poker sites online and is endorsed by professionals like Annie Duke and Phil Hellmuth. The site offers Texas Hold'em, Omaha, Omaha 8/b, 7 Card Stud, 7 Card Stud 8/b, Crazy Pineapple, Crazy Pineapple 8/b, Triple Draw, Royal Hold'em. Table limits range from penny games up to $300-600.