LAS VEGAS, Nevada -- Sixty-four of the world's best poker players are set to converge on Las Vegas March 1-4 as the 3rd National Heads-Up Poker Championship brings its distinctive, confrontational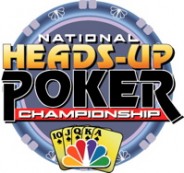 style to the Caesars Palace Poker Room.
Returning to compete this year are several of the worlds top poker pros, including: defending champion Ted Forrest; 2005 champion Phil Hellmuth; and Chris Ferguson, who will try to improve on his 2005 and 2006 runner-up status. Celebrity participants include Don Cheadle, Jennifer Tilly and Shannon Elizabeth.
The single-elimination competition begins Friday morning, March 2 and continues through Sunday, March 4 when a two-out-of-three championship match will determine the winner. The tournament will be taped for broadcast on NBC and CNBC over seven consecutive Sundays in April and May. The viewing gallery is open to guests on a first-come first-served basis.
The National Heads-Up Poker Championship features 64 players competing in a series of heads-up (one-on-one games of Texas Hold'em) matches to determine who is the best face-to-face poker player in the world. The tournament has a unique, single-elimination, bracket-style format modeled after college basketball tournaments. The brackets will be set during the tournament's draw party held at PURE Nightclub Thursday, March 1st.
"The National Heads-Up Championship brings together the most elite poker players in the world," offers Jon Miller, Executive VP of NBC Sports. "Having a seat at one of these tables guarantees you've got some serious poker chops. Head-to-head poker with players of this caliber is as intense as it gets."
The field, in alphabetical order, follows:
Angelil, Rene
Antonius, Patrik
Benyamine, David
Bloch, Andy
Booth, Brad
Brenes, Humberto
Brunson, Todd
Brown, Chad
Chan, Johnny
Cheadle, Don
Cloutier, T.J.
Cunningham, Allen
D'Agostino, John
Duke, Annie
Elezra, Eli
Elizabeth, Shannon
Esfandiari, Antonio
Farha, Sam
Ferguson, Chris
Fischman, Scott
Forrest, Ted
Gold, Jamie
Greenstein, Barry
Gordon, Phil
Gowen, Clonie
Hachem, Joe
Hansen, Gus
Harman, Jennifer
Hellmuth, Phil
Ivey, Phil
Juanda, John
Kaplan, Gabe
Laak, Phil
Lederer, Howard
Le, Nam
Le, Tuan
Lindgren, Erick
Madsen, Jeff
Matusow, Mike
Mercier, Isabelle
Michael, John (Caesars Qualifier)
Mizrachi, Michael
Moneymaker, Chris
Mortensen, Carlos
Nakano, Yosh
Negreanu, Daniel
Nguyen, Scotty
Raymer, Greg
Reese, Chip
Russo, Vanessa
Seed, Huck
Seidel, Erik
Sheikhan, Shawn
Shulman, Jeff
Smith, Gavin
Tilly, Jennifer
Tran, JC
Traniello, Marco (Caesars Qualifier)
Violette, Cyndy
Williams, David
Zolotow, Steve
NBC Qualifier
TBD
TBD