Phil Gordon's Little Blue Book
by Phil Gordon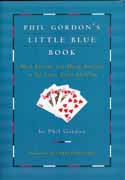 Valuable sections include Cash Games AND Tournament Play; Sit and Gos; Satellites and Supersatellites. Nicely illustrated with many lessons, examples and analysis, it's a balanced, smooth-reading textbook, some of which is based on the author's experience. This balance of common sense, strategies, ploys and an honest appraisal of what was going through his mind when he made his moves adds strength to this powerful, positive pack of lessons. One unique approach is to 'improve at poker is not by finding answers. It is by finding questions,' says champion Chris Ferguson in the foreward. This companion book to Gordon's Little Green Book does just that.
Read a review of Phil Gordon's Little Blue Book
MATTHEWS, North Carolina ---- PokerTek has announced that it has installed PokerPro at French Lick Resort Casino in French Lick, Indiana. This is the first 100% PokerPro poker room in the state.
"PokerPro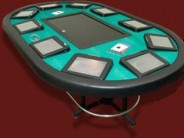 PokerTek's PokerPro Table System is a great fit for our casino," said Dale Nachreiner, Director of Table Games at French Lick Resort Casino. "Our goal was to create an environment that attracts poker enthusiasts of all skill levels as an addition to being a full-service destination resort. These tables are fun and interactive, allowing us to offer live poker in our newly expanded non-smoking venue with a reduced rake. PokerPro has also created opportunities for employees that have previously dealt only poker on a full time basis, to work in an expanded live table area without displacement of any positions."
French Lick Resort Casino offers a destination resort with over 42,000 square feet of gaming floor space. A newly expanded non-smoking gaming area of over 9,500 square feet, 1335 slot machines, 38 table games and 3 PokerPro tables. With live entertainment, multiple dining options, two golf courses and two historic hotels, it is the premier destination resort in southern Indiana.