PINEHURST, North Carolina -- World Tavern Poker Tour and Greg "Fossilman" Raymer, 2004 World Series of Poker Champion, hosted a the first Fossilman Challenge Poker Seminar and Tournament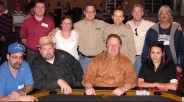 Greg 'Fossilman' Raymer (center) with final table players at the 1st Fossilman Challenge Poker Seminar
at the luxurious Little River Golf Resort in Pinehurst, NC on Sunday, April 9. After a one hour seminar and question and answer period led by Mr. Raymer, players competed in a free tournament with the goal of making the final table where the "Fossilman" himself sat down to play the finalists.
During the tournament Mr. Raymer circulated between the tables to analyze the poker play. At the end of a hand, players would flip up their cards and Mr. Raymer would assess the quality of the betting. He wrote comments cards for players and explained how anyone in the hand could have maximized their winnings (or avoided greater losses) had they bet differently.
Despite the limitless amount of possibilities in every hand of poker, Mr. Raymer amazed the over 120 participants at the event how players can improve their game one hand at a time.
During the dessert break Mr. Raymer played a live heads up match online on PokerStars. Little did the player on the other end realize that Mr. Raymer was commentating on the match to a room full of people as they watched him play on a large projection screen.
Besides sharing his incredible insight into the game of poker, what probably most impressed the crowd was Mr. Raymer's accessibility and sense of humor. He signed countless autographs and made time for everyone who approached him.
As one player from Raleigh, NC commented, "Greg was very available to all the players. I was pleasantly surprised at how much he got involved. I thought he might be here for just an appearance, but he was here all day."
Danielle Anthony remarked, "Very well organized! Excellent to be able to talk with Greg—there were so many opportunities to get autographs, talk with Greg, and meet other players. The food and drinks were exceptional. Great job!"
Every participant in the Fossilman Challenge received a commemorative T-shirt, poker chip, hat, and at least one autograph and photo with Mr. Raymer.
The top three finishers of the tournament each received a special plaque that included a fossil, photo, and Greg Raymer's famous orange holographic sunglasses as part of the design.
Greg Raymer and World Tavern Poker Tour are meeting this week to discuss plans for the next Fossilman Challenge.
The World Tavern Poker Tour
World Tavern Poker Tour is the largest, fastest growing poker league in the United States. The WTPT league has over 35,000 registered poker players. For FREE, players compete in Live Texas Hold 'Em tournaments in bars and restaurants in their own neighborhood.
From Florida to Alaska and the Caribbean to Canada, over 200 bars and restaurants are part of the WTPT. Players compete for points and weekly prizes and the chance to advance to the Tavern, Regional and National Championship. Four times a year, A WTPT National Champion wins a seat in the World Series of Poker! WTPT members are devout poker players and loyal to the league.
Players love the World Tavern Poker Tour because without risking money they get the feel of real poker tournaments, improve their poker playing, and can win great prizes. WTPT players are a devout poker playing community where friendships are formed and laughter is shared over a beer at a local tavern. The World Tavern Poker Tour is where average men and women play together while trying to make their mark in the poker world. For more information visit
www.worldtavernpoker.com.