Club USA Casino Blackjack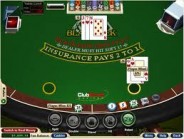 Club USA Casino Blackjack is the best bet for practicing blackjack basic strategy without stress and distractions. The game comes in both free play and real money modes and you can play up to three hands on your own table. The rules are favorable and with a house edge of only 0.71%, better than many casinos. The table minimum is $1 per hand and the maximum is $500.
Poker Stars

Poker Stars has reopened for most of the world, but not yet in the United States. It is endorsed by professionals like
Daniel Negreanu
and Chris Moneymaker. The site offers Texas Hold'em, Omaha, Omaha 8/b, 7 Card Stud, 7 Card Stud 8/b, Crazy Pineapple, Crazy Pineapple 8/b, Triple Draw, Royal Hold'em. Table limits range from penny games up to $300-600. The competition leans to the more challenging end of the spectrum.
EDINBURG - As reported by The Brownsville Herald: "About a dozen Mission-area investors bet the house four years ago on what sounded like a foolproof venture.
But because the developers of an


online gambling Web site failed to disclose the true risks, the investors ended up losing their shirts, the Texas State Securities Board said this week.
An Hidalgo County grand jury indicted Martin Graham Tyson Sr. and his son, Martin Jr. - heads of the Marble Falls, Texas-based Panorama Global Realty Group - last month on securities fraud charges, alleging they misled the backers of their online poker business.
The father-son duo allegedly failed to inform investors of an ongoing civil fraud suit against their company, a state investigation into investment advisers working on their behalf and legislation then making its way through Congress that would ban online gambling altogether.
In all, the mostly middle-aged backers lost close to $300,000 in the venture, according to a two-count indictment filed in the case..."
"Tyson Sr. and his son were arraigned Wednesday in state district court. Dressed in dark suits and ties, the men were handcuffed, taken into custody and placed in the jury box with other inmates clad in jail-issue orange jumpsuits after entering their not guilty pleas.
Both were released later that day on personal recognizance bonds. If convicted, the father and son could face up to life in prison...