LOS ANGELES -- Evelyn Ng, former poker dealer turned professional player, has recently joined the Bodog.com Poker Team. As a top professional, Ng will team with poker pros David Williams and Josh Arieh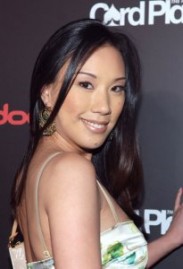 Evelyn Ng is the latest member of the Bodog Poker Team.
online at the Bodog poker tables and at Bodog events around the world.
With her stunning looks and aggressive play, Ng has proven over and over again that she is a formidable force on the professional poker circuit. She made an immediate impact when she first appeared on the poker scene at the 2003 inaugural World Poker Tour Ladies Night event. She finished in second place, and has since gone on to an extremely successful career, including a recent 11th-place finish at the WPT Borgota Poker Open, earning just under $65,000.
Ng was a participant in the Calvin Ayre Wild Card Poker tournament, which was filmed in Costa Rica and will air Saturday nights on a major U.S. cable network beginning April 15. At this year's WSOP, Ng will compete among the growing ranks of Team Bodog.
"I am very excited to be joining my good friends David Williams and Josh Arieh at Bodog. Calvin Ayre and everyone with Bodog have made me feel very welcome. I am positive that the Bodog lifestyle will suit me very well, and I look forward to being a representative for them," Ng said.
Last year, 70 players represented Bodog at the World Series of Poker. This year, the digital entertainment giant is sending more than 700 of its online players to the various WSOP tournaments, which run from June 25-Aug. 10. The players are being selected in numerous ways.
Bovada is an offshoot of Bodgo,one of the most recognizable and popular betting and gambling sites on the Internet. It is a casino that offers US citizens a place to gamble online.