LAS VEGAS, Nevada -- Dream Team Poker today announced their second tournament at the prestigious poker room in Caesars Palace Las Vegas on March 27-29, 2009. 100 teams totaling 300 players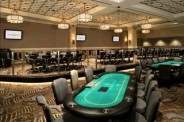 Caesars Palace's Poker Room are expected to face off for the $150,000 prize pool and to be crowned the next Dream Team Poker winner.
The buy-in for the tournament is $500 + $50 per player making it affordable to just about all players. This is the first Dream Team Poker Event open to the public, giving every day players a chance to team up and battle to see who has the best team in poker. Each team will receive custom team jerseys, special hotel room rates and admission to the welcome party and winner's ceremony. Dream Team Poker's patent-pending tournament structure brings a new dimension to the game of poker. With its unique team scoring system and prizes for both teams and individuals, players have a multitude of financial incentives to stay engaged in the tournament even after they are eliminated.
"The tournament's innovative team concept will bring a new dimension to tournament play," said Jim Pedulla, Director of Poker for Caesars Palace. "This new format will create more camaraderie among the players making this an exciting event. Caesars Palace is proud to host this event in our World Series of Poker Tournament Room, which is also the site of the NBC 'Heads Up' championship and has been the location for a number of top celebrity and charitable tournaments."
In November, Dream Team Poker kicked-off their inaugural invitational event and attracted a diverse group of poker champions, celebrities, journalists and local casino players. The winners took home the $39,000 first place prize and Dream Team Poker championship rings, each valued at more than $5,000. The event turned out to be a huge success for both the players and the host.
"The first event was such an incredible accomplishment for Dream Team Gaming and proved that the concept of team poker could be exciting, fun and profitable for all involved," said Daniel Delshad, CEO of Dream Team Gaming. "We are seeing a definite call for this game from the casinos and the players. We are honored to have Caesars Palace Las Vegas host our next tournament."
To register for the Dream Team Poker Caesars Palace Las Vegas event and for more information on Dream Team Poker, please visit www.dreamteampoker.com.
Caesars Palace
3570 Las Vegas Boulevard
Las Vegas, NV
Toll Free Phone: (877) 427-7243
Website: www.caesars.com/caesars/lasvegas

Caesars Palace is one of the world's best known resort-casinos. At the heart of the Las Vegas Strip, Caesars Palace features more than 3,300 hotel guest rooms and suites, 26 diverse restaurants and cafes, 4.5-acre Garden of the Gods pools and gardens, and world-class health spa and salon services. Its 4,100-seat Colosseum spotlights world-class entertainers such as Celine Dion, Elton John and Jerry Seinfeld, and sits just steps away from celebrity chef restaurants and The Forum Shops. The casino offers a wide variety of slot machines and is well-known for its high quality table game play.