Club USA Casino Blackjack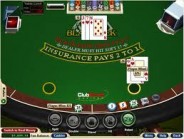 Club USA Casino Blackjack is the best bet for practicing blackjack basic strategy without stress and distractions. The game comes in both free play and real money modes and you can play up to three hands on your own table. The rules are favorable and with a house edge of only 0.71%, better than many casinos. The table minimum is $1 per hand and the maximum is $500.
32 Vegas Top Spot for Gamblers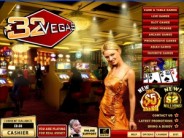 32 Vegas has a huge variety of slot machines, enough to satisfy any slot fanatic. The casino has over 30 video and classic slots to choose from including 7 progressives. You can play as little as a penny per spin all the way up to $5 per line. There are 2,3,5,8, and 9 line slots. Some of the outstanding video slot titles are Gold Rally, Vacation Station and Desert Treasure. Popular classic slots include Fountain of Youth, Bermuda Triangle, and Haunted House. With great variety, fantastic graphics, and innovative themes, 32 Vegas slots are a good thing.

Dial A Dealer
Go to dialadealer.com to check current listings of freelance card dealers for hire near you. If you are a freelance card dealer looking for work then post your profile here!
ALBANY, New York -- Poker Dealers - It's time to top up your income with Dial a Dealer.
Dial a Dealer today announces its launch in the USA, Canada, UK, Ireland, Australia and New Zealand of


its new website that connects dealers to customers wishing to host poker and casino nights in their local area.
Dial a Dealer, which is now inviting dealers in the USA and Australia to list on their site, allows listed dealers:
* The opportunity to supplement their income by picking up local freelance dealing jobs.
* The ability to create unique dealer profile which can be searched by thousands of potential customers.
* To manage customers and contacts through an online Dial a Dealer account.
* Access to the exclusive private Dial a Dealer chat forum and community centre.
Michael Needham, co-founder of Dialadealer.com, says, "This presents a massive opportunity for freelance dealers to make a decent living out of working the poker and casino events scene in their local area. We are now starting to market the Dial a Dealer brand to the wider population to ensure a constant flow of customers coming to the site to hire dealers."
Michael Needham goes on to comment, "The end customer also now gets a much more affordable poker night service as it is a direct transaction between him and his chosen dealer with no events agency involved in the transaction. Each dealer has total control over the prices they charge, and the packages they offer. Their profile is in effect their "shop window". The more work they do and the higher the customer ratings they receive, the more they move up the pecking order. It is a total meritocracy. The best and highest rated dealers will be able to charge the most."
Thousands of poker nights and casino events take place all over the world every day. Traditionally, freelance dealers depended on word of mouth to source dealing jobs in their local region. But for the first time, Dial a Dealer is aiming to bring together the fragmented poker dealer and casino events industry. Dial a Dealer now make it possible for customers looking to hire dealers to search for and contact freelance poker and casino dealers.
Dial a Dealer's new site is being rolled out concurrently in the UK, Ireland, USA, Canada, Australia and New Zealand.