LuckyAce Casino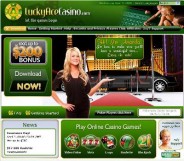 LuckyAce Casino is a new white-label casino that uses 888 software, the same platform that powers one of the oldest and most respected online gambling sites on the web, Casino-on-Net. LuckyAceCasino.com has all the most popular games including: BlackJack, Craps, Video Poker, Roulette, Keno and over two-dozen slot machines with better odds than a Las Vegas casino room. LuckyAce Casino does not accept US players.
LONDON, England -- DevilfishPoker.com today announced the launch of its new and improved Hellfire Club. The site has expanded its VIP Loyalty Programme to reward more players with a greater number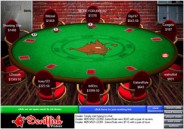 Devilfish Poker of bonuses.
The new programme has a fixed payout structure where players can receive a Monthly VIP Bonus by earning as little as 300 VIP points per month while bigger players will still be rewarded handsomely with huge Monthly VIP Bonuses. The more a player plays, the higher the bonus they receive and with fixed points targets players will know exactly how many VIP points are needed to reach the next bonus level.
Players can keep track of their VIP points by clicking on the "Account Information" button in the top left hand corner of the poker client.
VIP Points
The new VIP point structure is more generous to the majority of players with more attainable bonuses with lower points requirements for minimum payouts.
Under the new system a player generating €1,000 in rake (2,000 points) per month will receive a €300 bonus. Under the old system a player generating the same amount of rake would only have earned €200. Visit www.devilfishpoker.com for further information and the fixed point targets.
Devilfish Poker
Tigne Place
Block 12, Office 2/3
Tigne Street
Sliema SLM 11
Malta
Website: www.devilfish.com

Devilfish Poker is an Online Poker room created by non other than David "The Devilfish" Ulliot. Devilfish Poker offers multiple poker rooms and games all backed by the "Devilfish" theme.