DELAWARE - As reported by the Cape Gazette: "Poker enthusiasts in the Cape Region may be excited to hear that a brand-new, deluxe card room, offering hours of action-packed, no-limit Texas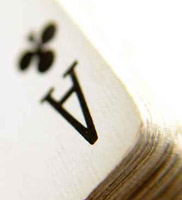 Hold 'em play, is now officially open to the public.
Operated four days a week by a company called Charitable Games of Delaware, the first-class venue is already drawing quite a crowd.

Attracted by the urge to be dealt a winning hand and reel in the big bucks, players from all over the county have assembled in the Rehoboth Beach location, hoping lady luck is on their side.

Modeled on popular card rooms found in gambling hotspots like Las Vegas, Nev., and Atlantic City, N.J., Charitable Games' three owners say Poker at the Beach has the real deal look and feel.
With six full-sized red felt poker tables, custom Poker at the Beach clay gambling chips and weekly tutorial sessions, players can take in the authentic poker experience, the owners say..."
"Most important to the owners is that the card room that serves as a way to give back to the community. Sponsored every evening by a new charitable organization, the poker room raises money by collecting $4 from players every half hour. At end of the night, that money is donated to the special cause, along with any additional funds raised by the company..."
"The card room is open from 7 p.m. to 1 a.m., Wednesday through Saturday, and state law requires players to be at least 18 years of age. Currently, games offered at Poker at the Beach include $1 and $2 no-limit hold 'em but may soon be expanded to offer games such as limit poker, Omaha and seven card stud..."