LuckyAce Casino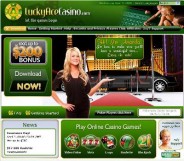 LuckyAce Casino is a new white-label casino that uses 888 software, the same platform that powers one of the oldest and most respected online gambling sites on the web, Casino-on-Net. LuckyAceCasino.com has all the most popular games including: BlackJack, Craps, Video Poker, Roulette, Keno and over two-dozen slot machines with better odds than a Las Vegas casino room. LuckyAce Casino does not accept US players.
Club USA Casino Blackjack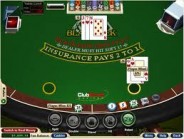 Club USA Casino Blackjack is the best bet for practicing blackjack basic strategy without stress and distractions. The game comes in both free play and real money modes and you can play up to three hands on your own table. The rules are favorable and with a house edge of only 0.71%, better than many casinos. The table minimum is $1 per hand and the maximum is $500.

Canadian Poker Tour Official Site
Check out the latest tour dates, winners and events at the official website of the Canadian Poker Tour.
DOMINICAN REPUBLIC - The Canadian Poker Tour, owned and operated by HeadsUp Entertainment International Inc. (PINK SHEETS: HDUP), has crowned a national champion at the CPT Invitational Finals held


at the Ocean World Resort and Casino in the Dominican Republic. The top 50 players from across the country qualified to play in the televised championship through a player's point system based on results at events nationwide in 2008. Through an exclusive sponsorship arrangement, Party Poker also ran a select number of satellite events and sent 7 representatives to battle for Canada's premier poker title.
The event was won by 48 year old Richard Webb from Dashwood, Ontario who qualified to play after winning the Blue Water Classic Poker Tournament at the Point Edward Casino in the summer of 2008. Richard is well known to the Canadian Poker Tour from multiple wins at CPT events over the past 5 years and has also been a contributor to Canadian Poker Player Magazine. In addition to the $60,000 cash component of the prize pool, Richard also won a 1 year sponsorship contract from the CPT worth an estimated $100,000 to represent the CPT at events worldwide. "He is a great champion and I couldn't have hand picked a better player to represent us," stated CPT President and CEO Kelly B. Kellner. "His play over the years has exemplified all elements of discipline, risk and strategy and I look forward to travelling to poker tournaments around the world with him as CPT Champion."
Second place and $50,000 was taken by former football player and 2 time Grey Cup champion Bob Beveridge, who now resides in Vancouver and is a professional poker player. The ladies made a strong showing at the event as 2 of the 3 female participants placed third and fourth. Angie Gelinas of Calgary and Carolyn Grad of Medicine Hat, Alberta took down $35,000 and $20,000 respectively and we look for them both to battle throughout the upcoming season for their quest at the title.
The Canadian Poker Tour is now into its 2009 season and looks to host over 250 events from coast to coast this year. With the launch of the CPT Players Membership Card, players will be competing to earn points towards qualification in this year's national finals whereby the top 50 finishers will be flown to the national championships and play for 6 one year sponsorship contracts for the following year. Further details can be found at www.canadianpokertour.tv on this and all upcoming CPT events.
The one hour television show featuring the CPT Invitational Finals and presented by Party Poker will air beginning in April on The Score Television Network, the official broadcast partner of the Canadian Poker Tour.