Phil Gordon's Little Blue Book
by Phil Gordon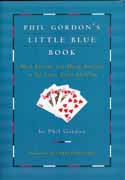 Valuable sections include Cash Games AND Tournament Play; Sit and Gos; Satellites and Supersatellites. Nicely illustrated with many lessons, examples and analysis, it's a balanced, smooth-reading textbook, some of which is based on the author's experience. This balance of common sense, strategies, ploys and an honest appraisal of what was going through his mind when he made his moves adds strength to this powerful, positive pack of lessons. One unique approach is to 'improve at poker is not by finding answers. It is by finding questions,' says champion Chris Ferguson in the foreward. This companion book to Gordon's Little Green Book does just that.
Read a review of Phil Gordon's Little Blue Book
MIAMI, Florida -- The wallets of Texas Hold'em fans at one popular online poker site are filling up faster than ever thanks to the addition of an enhanced Bad Beat Jackpot game.
The latest $234,812.04 online poker jackpot was hit on October 9th at 8:58am ET when a player with the moniker DADDYHOUSE lost a hand of Texas Hold'em holding four 8s to ATLANTA66's four queens.
For his loss, DADDYHOUSE immediately secured $76,313.92 of the jackpot. An additional $38,156.95 went to the winner of the hand and eight players seated at the poker table where the bad beat occurred each earned $1,603.13. The good fortune continued well beyond the winning table as 42 other online poker players who were seated at Ultimate Bad Beat Jackpot tables with the same stakes each took home $603.13.
The loss catapulted DADDYHOUSE into UltimateBet's own record books. The online poker player now holds the claim to fame of hitting the largest Bad Beat Jackpot since its launch on September 24th
But it's only a matter of time before that record is broken. Online poker players from across the globe are flocking to UltimateBet to play Bad Beat Jackpot where the extremely lucrative payout structure has paid out nearly $750,000 in the past two weeks.
When an online poker player loses a hand with four 8s or anything better, 65% of the jackpot is divided among Bad Beat Jackpot players (25% remains in the pot for the next jackpot and 10% is dedicated towards administrative fees).
But what separates UltimateBet's Bad Beat Jackpot poker game from other online poker offerings is a more lucrative payout structure. All players seated at a Bad Beat Jackpot table featuring the same limit and game type as where the bad beat occurred win a piece of the jackpot.
Bad Beat Jackpot poker is just like traditional Texas Hold'em with an added jackpot component. In addition to rake, $0.50 is collected from qualifying poker hands and placed into a constantly growing pot until someone hits the jackpot. UltimateBet's Bad Beat Jackpot poker tables are categorized in red text in the game lobby.
Ultimate Bet is one of the most respected poker sites online and is endorsed by professionals like Annie Duke and Phil Hellmuth. The site offers Texas Hold'em, Omaha, Omaha 8/b, 7 Card Stud, 7 Card Stud 8/b, Crazy Pineapple, Crazy Pineapple 8/b, Triple Draw, Royal Hold'em. Table limits range from penny games up to $300-600.