SAN JOSE, Costa Rica -- Digital entertainment giant Bodog.net announced today the schedule for its six-episode television series that was recently filmed by FSN (Fox Sports Net) at the luxurious Bodog.net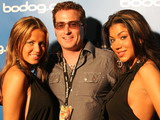 Calvin Ayer, CEO of Bodog.com Compound in Costa Rica.
Calvin Ayre Wild Card Poker, hosted by the billionaire founder and CEO of Bodog.net, will air weekly on FSN (Fox Sports Net) on Saturdays from 11 p.m.-1 a.m. (all time zones in North America), beginning April 15, 2006.
In the series, Mr. Ayre sets out to discover the next TV Poker star. The six episodes detail the journey of 40 individuals -- 10 celebrities, 10 poker professionals and 20 Bodog.net poker players -- who use their card-playing skills to compete for a $500,000 grand prize. The series showcases poker games, Costa Rican excursions, Bodog.net Music artists and the billion-dollar lifestyle of the show's adventurous host.
"We initially set out to create a poker and entertainment show that would offer television viewers a glimpse into Bodog.net's Play Hard lifestyle," says Mr. Ayre. "What we got was a television show entirely unlike any show you could imagine. With unexpected twists and turns, including some of the intimate moments captured by the cameras, the millions of viewers tuning in this week will see a fantastic show with a lot of tense scenes at the poker table."
The poker hopefuls include a number of television, music and poker celebrities, such as Ultimate Fighting Champ Chuck "Iceman" Liddell, actress/comedian Cheryl Hines (Curb Your Enthusiasm), "Boston" Rob Mariano (Survivor), Josh Malina (West Wing) and Willie Garson (Sex in the City), along with music stars Willa Ford and SR-71's Mitch Allen.
Also present during filming were Hollywood beauties Kelly Hu (Scorpion King), Shannon Elizabeth (American Pie) and Michele Merkin (Foody Call), along with Extra TV correspondent Jon Kelley, who covered the event while playing in the tournament. Poker notables such as Jennifer Tilly, Phil Laak, David Williams, Evelyn Ng, plus Josh Arieh, Jean Gluck, Michael Mizrachi, Lily Mizrachi, Humberto Brenes and Erick Lindgren, all starred in the series. A mystery "Wild Card" player will be revealed in the finale, which will air May 20 on FSN.
The series is the latest mainstream entertainment product by Mr. Ayre and Bodog.net. Featured on the cover of Forbes' Billionaires issue in March 2006, Mr. Ayre is no stranger to the cameras. The billionaire entrepreneur, who is recognized as a world authority on branding in the digital entertainment industry, also stars in the latest Bodog.net TV commercials, and has been front and center at a number of celebrity galas.
In 2005, Bodog.net produced its first television show, Bodog.net Salutes the Troops, which aired on Spike TV, and in January 2006, Bodog.net Music announced its expansion into Europe. Filmed during Super Bowl XL weekend, the Bodog.net Lingerie Bowl III has been airing on international Pay Per View throughout the year.
"Bodog.net continues to evolve into a world-class brand, and our television series marks yet another progressive step in our journey toward becoming North America's premier digital entertainment company," Mr. Ayre says.
For more information, please contact pr@bodog.net or 1-866-591-0217.
About Bodog.net
Bodog.net's Founder and CEO Calvin Ayre, who is recognized as a world authority on branding in the digital entertainment industry, was featured on the cover of Forbes magazine's best-selling "Billionaires" issue in March 2006. Bodog.net has sponsored numerous high profile events, including "Viva Las Vegas" at the Cannes Film Festival, the LA Lakers Youth Foundation 2nd Annual Casino Night -- donating $50,000 to the charity, the Hawaiian Tropic Super Bowl Bikini pageant and party in Jacksonville, the Major League Baseball preview party with Razor Magazine in Phoenix, the 2005 Indy 500eXtreme VIP Pre-Race Party in Indianapolis and the Genesis Awards After-Party supporting the Humane Society in Los Angeles. Bodog.net is a play-for-free educational website that provides novice poker players with strategies and tips on how to play poker. Located at www.bodog.net, the site allows users to practice and fine-tune their poker skills with people from all over the world.
Bovada is an offshoot of Bodgo,one of the most recognizable and popular betting and gambling sites on the Internet. It is a casino that offers US citizens a place to gamble online.