Ace on the River: an Advanced Poker Guide
by Barry Greenstein

No ordinary poker book. This is the first truly 'advanced' guide aimed at improving your game. Written in an easy-to-read, bare bones conversational style and designed to help anyone interested in increasing their understanding of the game, this book is ideal for those new to the game or winning professionals. While most poker books focus on basic rules and strategies, Ace on the River's advanced perspective addresses elements that effect both game play and the player. Focusing on a variety of subjects such as the psychology of poker, money management, family issues, and sex, this book gives the reader a rare chance to look beyond the cards to see the poker world through someone who lives it. The unique you-make-the-call-play by play section will challenge the reader again and again.
SAN MANUEL INDIAN NATION, HIGHLAND, California -- On Thursday, October 25, San Manuel Indian Bingo & Casino will raise the bar on its commitment to providing world-class gaming and entertainment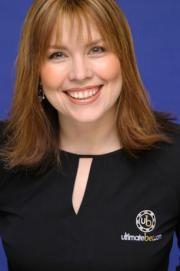 Annie Duke is hosting a poker tournament at the San Manuel Casino and Bingo.
by holding the Annie Duke $100,000 Hold 'Em Tournament. The Tournament will be held in San Manuel's beautiful Yuhaviatam Showroom and will be emceed by Annie Duke, top-rated female Poker Player and winner of the
World Series of Poker
.
"Annie Duke represents all that is fun and exciting about the game of Poker and we are absolutely thrilled to have her as part of this event," says Steve Lengel, Executive Director of Operations for San Manuel Indian Bingo & Casino. "San Manuel is known for providing some of the best entertainment in Southern California and now we're bringing that same level of quality to our Poker program."
Annie Duke began her rise to fame in the mid-1990s when she moved to Las Vegas and began playing Poker professionally. Over the course of the next decade, Duke established herself as one of the best poker players in the world. In August 2004, she won $2 million in the No-Limit Texas Hold'em winner-take-all, invitation-only WSOP Tournament of Champions, established by ESPN and Harrah's Entertainment. Today, Duke serves as a consultant for the online poker site UltimateBet.com. She is also sought after for her vast poker skills and knowledge, coaching the likes of Ben Affleck and Matt Damon on their poker game.
"Of all the casinos in Southern California, San Manuel is one of the best places to play Poker," says Duke. "I am proud to be partnering with them for this very exciting event."
Players will be qualified to compete in the Tournament by meeting specific play requirements at San Manuel Casino. Qualifying will begin on September 24th. Players must have a valid Club Serrano Card prior to registering for the event on October 25.
San Manuel Indian Bingo & Casino
777 San Manuel Boulevard
Highland, CA 92346
Toll Free Phone: 800-359-2464
Website: www.sanmanuel.com

Located in the heart of Southern California, the casino has 2,000 slot machines, Vegas-Style poker or blackjack tables and games like Omaha, Texas Hold'Em and Pai Gow.