Club USA Casino Blackjack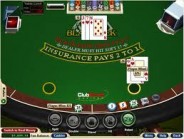 Club USA Casino Blackjack is the best bet for practicing blackjack basic strategy without stress and distractions. The game comes in both free play and real money modes and you can play up to three hands on your own table. The rules are favorable and with a house edge of only 0.71%, better than many casinos. The table minimum is $1 per hand and the maximum is $500.
Poker Stars

Poker Stars has reopened for most of the world, but not yet in the United States. It is endorsed by professionals like
Daniel Negreanu
and Chris Moneymaker. The site offers Texas Hold'em, Omaha, Omaha 8/b, 7 Card Stud, 7 Card Stud 8/b, Crazy Pineapple, Crazy Pineapple 8/b, Triple Draw, Royal Hold'em. Table limits range from penny games up to $300-600. The competition leans to the more challenging end of the spectrum.

World Series of Poker Official Site
The World Series of Poker has been the premier poker tournament in the world ever since it was launched by Benny Binion at the Horseshoe in downtown Las Vegas in 1970. Harrah's bought the rights to the tournament in 2004 and has moved the action to the Rio. The official site shows the circuit schedule leading up to the big event held in the summer. There is also a registration section and a WSOP store.
As reported by USA Today: "Doyle Brunson was in prime contention when he quit the 1972 World Series of Poker. He said he was ill, but that was a fib.
Brunson left because some news reporters

Doyle Brunson and TV cameras started showing up at Binion's Horseshoe Casino in Las Vegas. Back home in Texas, he had kept it a secret that he played poker for a living.
"You were looked at like you were a second-class citizen if you were a gambler," he says. "None of my neighbors knew I was a poker player. So when they came in with all the media, I pretended to be sick and left."
Now, with the World Series marking its 40th year, thousands of players from around the world are drawn to its spotlight. TV coverage and attention far beyond what Brunson encountered are part of the allure. Surprise winners have become the norm, and the WSOP has made that a selling point.
"Anyone can enter, anybody can win and you're not just entering any poker tournament. You're entering the world's most important poker tournament," says Jeffrey Pollack, WSOP president and commissioner..."