SAN DIEGO -- Viejas Casino, one of the most successful tribal gaming facilities in California, today announced that it has become the first casino in California to be certified as a responsible gambling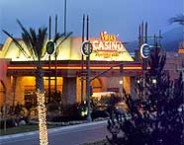 The Viejas Casino has systems in place to protect problem gamblers. facility. In training sessions that were completed last week, 75% of Viejas Casino's frontline casino employees learned how to identify and assist problem gamblers, bringing the total number of trained casino employees to 1,581. This marks the first time an entire casino has been certified in responsible gambling by the California Council on Problem Gambling (CCPG).
"This is an issue that we take very seriously," said Bobby Barrett, Viejas Tribal Chairman, Chairman of the California Tribal Business Alliance and a certified problem gambling counselor. "Although problem gambling only affects a relatively small percentage of players, it is still an issue that we are committed to, and even one person with problem gambling is too many. We are concerned with the health and safety of the people in our casinos and will take every step to ensure that their time with us is not negatively affecting their lives at home. We also challenge other casinos, race tracks, card rooms and the state lottery to match our efforts to help curb problem gambling."
The latest employee training sessions were facilitated by the California Council on Problem Gambling and took place at Viejas over a four-day period. Each team member was required to pass a test that was administered at the end of each training session. In order for a casino to become certified in responsible gambling, over 60% of its frontline employees must attend and pass the training courses.
"This is a very important milestone for California's gaming industry and we congratulate Viejas, which has been at the forefront of this issue since the start of tribal gaming," said Bruce Roberts, executive director of the California Council on Problem Gambling. "Casino certification for responsible gambling is extremely important because, in addition to employee training, there are six other criteria which must be met. These steps will educate the patrons, create public awareness and often prevent more serious consequences associated with problem gambling. Being able to recognize and assist those who exhibit early warning signs is the first step in helping to minimize the problem."
Viejas Casino
5000 Willows Road
Alpine, CA 91901
Toll Free Phone: 800-847-6537
Website: www.viejas.com

With 2,500 slots, Viejas is a great place for slot players. The casino has all your favorites like Wheel of Fortune¨∆, Megabucks, Pot O' Gold and more! New games are being added regularly.