The Joy of Six Slot simulates craps action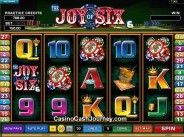 Microgaming's video slot release The Joy of Six allows players the chance to experience the excitement of the enthralling game of craps. Based in a casino environment, the five-reel, 30-payline slot lets players throw the dice in a vibrant world of vivid graphics, craps animations and distinctive sound effects. The large variety of features within the game gives players many opportunities to profit from an enjoyable experience.
SAN DIEGO -- Viejas Casino was proud to award two new Ford Limited Edition Shelby GT Mustangs to two lucky winners last month. The winners, who occurred within two weeks of each other, were able to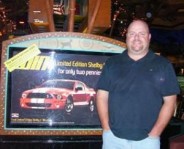 Howard Bailey of Chula Vista with a picture of a 2007 Shelby GT Mustang that he won playing a penny slot machine at Viejas Casino in San Diego.
drive off in their new cars after playing the Mystical Vehicle Jackpot machine.
The first lucky winner was the recipient of a black Shelby GT Mustang and graciously decided to give the new car to her son. The second winner, Howard Bailey of Chula Vista, who is a frequent visitor to Viejas Casino and often plays penny slots, happily accepted a white Shelby GT Mustang last week. Both Mustangs were donated by Bob Baker Ford Mission Valley.
"It's great when you have two new car winners in the same month," said Mike McNabb, vice president of marketing for Viejas Casino. "Viejas loves winners, and this month players will have a chance to win a 2007 Corvette Coupe."
The Mystical Vehicle Jackpot can be won with, or without, any winning symbols appearing on a guest's slot machine. The jackpot is completely random, but chances may increase or decrease depending on the level of play. Guests who play more coins per spin will have more chances to win than those guests playing just one coin per spin. However, the vehicle may be won with just a one-coin bet.
Viejas Casino
5000 Willows Road
Alpine, CA 91901
Toll Free Phone: 800-847-6537
Website: www.viejas.com

With 2,500 slots, Viejas is a great place for slot players. The casino has all your favorites like Wheel of Fortune¨∆, Megabucks, Pot O' Gold and more! New games are being added regularly.