LAS VEGAS, Nevada - As reported by the Las Vegas Sun: "Can the firm that helped Starbucks launch the Frappucino — the Coke of blended coffee drinks — help the owner of the Tropicana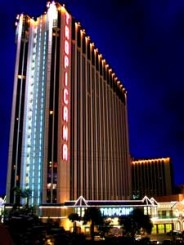 The Tropicana Las Vegas will be going under a $100 million renovation hotel and casino?
Tropicana Entertainment, which has some work to do in the image department, hopes so.
The Las Vegas company's troubles under its former management team have become legend in the tight-knit casino business. The company hopes to forge a stronger, more appealing identity with the help of Hornall Anderson, a Seattle branding company that has worked with the Westin hotel chain and the Holland America cruise line, among other tourism brands.
Under previous management, Tropicana Entertainment's critics called it the industry's Wal-Mart — a company that engaged in deep cost-cutting with the belief that a certain number of customers would always return. That concept might work for low-cost retailers but didn't translate well for vacation getaways.
Calling former executives incompetent if not outright liars, regulators pulled the company's gaming license in New Jersey and are forcing the sale of its flagship Tropicana resort in Atlantic City, and angry bondholders booted former Chief Executive Bill Yung.
These days, executives would like customers to associate the Tropicana with James Bond (Ian Fleming's 007 stayed there in "Diamonds are Forever") or Elvis Presley, whose "Viva Las Vegas" film featured the hotel's famed "Folies Bergere" showgirls.
The company's newly appointed chief marketing officer, Riad Shalaby, isn't dwelling on past mistakes, nor was Hornall Anderson hired to do what some might call "damage control."
Instead, the new management team is starting from scratch, initiating programs that will have the company playing catch-up to its major competitors on the Strip. On the branding front, Hornall Anderson is conducting interviews with rank-and-file employees and the public to determine what the brand stands for and positive associations that the company can exploit. The company will create advertising and marketing pieces using an agency developed in-house. It will rely on qualitative and quantitative research to figure out what works and what doesn't..."

Tropicana Casinos and Resorts, Inc.
207 Grandview Drive
Fort Mitchell, KY 41017
Phone: (859) 578-1100
Fax: (859) 578-1154
Website: www.tropicanacasinos.com

Formerly Columbia Sussex, Tropicana Casinos and Resorts owns the Tropicana in Las Vegas, two properties in Lake Tahoe, Nevada and a number in Louisiana and Mississippi.