FT. MITCHELL, Kentucky -- Columbia Entertainment announced today that its agreement to acquire the Casino Queen Riverboat in East St. Louis, Illinois, has been terminated.
"Casino Queen withheld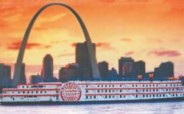 The Casino Queen information from us that was the foundation for disciplinary complaints against certain of its owners by the Illinois Gaming Board," said Donna B. More, Columbia's Vice President and General Counsel. "We believe that the issuance of these complaints adversely affected the timing of the regulatory review of the acquisition, thereby causing delays that we could not anticipate and over which we had no control. The delays ultimately led to the termination of the agreement."
Casino Queen agreed in April 2006 to be acquired by Columbia, which is headquartered in Ft. Mitchell, Kentucky, and is licensed to own and operate casinos in Nevada, New Jersey, Indiana, Mississippi and Louisiana.
Tropicana Casinos and Resorts, Inc.
207 Grandview Drive
Fort Mitchell, KY 41017
Phone: (859) 578-1100
Fax: (859) 578-1154
Website: www.tropicanacasinos.com

Formerly Columbia Sussex, Tropicana Casinos and Resorts owns the Tropicana in Las Vegas, two properties in Lake Tahoe, Nevada and a number in Louisiana and Mississippi.