NEW YORK – As reported by the Buffalo News: "Seneca Gaming Corp.'s new hotel and casino in Niagara Falls is giving a big boost to the company's profits.
"The tribal-owned casino operator's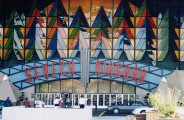 The Seneca Niagara Casino & Hotel. first-quarter profits jumped by 48 percent as the opening last spring of the company's 604-room hotel and casino in Niagara Falls spurred more activity at the new facility's gaming tables and slot machines.
"Seneca's revenues swelled by 29 percent, with almost all of the increase coming from the Niagara Falls complex, while ongoing construction at the company's Seneca Allegany Casino helped keep revenues relatively flat.
"…Seneca's profits jumped to $31.5 million during the quarter that ended in December, compared with $21.3 million a year earlier, when the new Niagara Falls hotel and casino was just opening.
"The company's revenues grew to $140.2 million from $108.9 million a year ago.
"Most of the increase came from a 28 percent increase in Seneca's gaming revenues, which rose to $141.3 million from $110 million because of the impact of the new Niagara Falls gambling complex…"
Seneca Niagara Casino & Hotel
310 Fourth Street
Niagara Falls, NY 14303
Toll Free Phone: 877-8-SENECA
Fax: 716-299-1100
Website: www.senecaniagaracasino.com

If you love slot machines, you'll love Seneca Niagara Casino & Hotel. Take a spin on more than 4,000 reel-spinning and video slot machines featuring the very latest games.