WASHINGTON, D.C. – As reported by the Buffalo News: "The Seneca Nation's casino in Niagara Falls would have to close if gambling opponents win their federal lawsuit aimed at stopping a Buffalo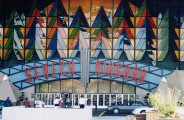 The Seneca Niagara Casino & Hotel. gaming hall, the tribe acknowledged in a report this week.
"In its latest quarterly filing with the Securities and Exchange Commission, the tribe's gaming corporation revealed that its profits are expanding dramatically, but noted several factors that could threaten them - particularly the Buffalo lawsuit.
"…Buffalo casino opponents argue in court that the Senecas improperly used that law which settled an old lease deal on Indian-owned property in Salamanca as a way to sidestep federal limits on off-reservation Indian casinos.
"Joseph Finnerty, the Buffalo lawyer representing the casino opponents, said the lawsuit was not aimed at the Seneca Niagara Casino.
"…In its report to the SEC for the quarter ending June 30, the Seneca Gaming Corp. does not elaborate on the possible ramifications if it loses its federal lawsuit…"
Seneca Niagara Casino & Hotel
310 Fourth Street
Niagara Falls, NY 14303
Toll Free Phone: 877-8-SENECA
Fax: 716-299-1100
Website: www.senecaniagaracasino.com

If you love slot machines, you'll love Seneca Niagara Casino & Hotel. Take a spin on more than 4,000 reel-spinning and video slot machines featuring the very latest games.