Stretch Your Bankroll Online!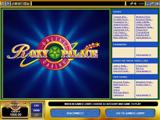 Roxy Palace can really help you stretch your casino bankroll. The casino has games with more favorable odds than you would find at most casinos in the United States. Add to that the generous bonus that you receive just for signing up, and you are getting a lot of extra playing time for your gambling dollar.
GEYSERVILLE, California -- Tax season doesn't have to hurt for River Rock Casino's Player's Club members. River Rock will be celebrating the end of tax season with the Tax Cash Giveaway, Monday, April

River Rock Casino 2, through Monday, April 16. While tax accountants are wearing down pencils and crunching final figures, Player's Club members will take home a total of $50,000 in cash.
River Rock will feature daily cash giveaways every Monday through Friday, April 2 through April 13. Each day, five Player's Club members will be awarded $500 cash each hour between 6 p.m. and 11 p.m. Plus, because each cash prize is below $600, there's no additional tax paperwork required!
On Monday, April 16, the day after taxes are due, River Rock will celebrate with five grand prize drawings totaling $25,000. A $5,000 cash drawing will be made at the top of each hour from 6 p.m. to 10 p.m. Guests will have the opportunity to collect drawing tickets starting Monday, April 2, through Monday, April 16, with Players Club table game and slot play. Tickets will only be distributed from 8 a.m. Monday through 10 p.m. Friday each week, and from 8 a.m. until 9:45 p.m. on Monday, April 16.
It's just another reason why River Rock is Sonoma County's 24-hour entertainment destination!
River Rock Casino
3250 Highway 128
Geyserville, CA 95441
Phone: (707) 857-2777
Website: www.riverrockcasino.com

River Rock Casino offers 1600 state-of-the-art slot machines, including video poker, progressives, and many more of your favorite machines. There are also 16 tables featuring Pai Gow Poker, Three Card Poker and Blackjack; offering the most liberal rules in the area.