Mystic Dragon Slots Cast a Spell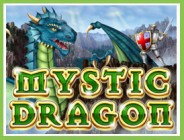 Club USA Casino's Mystic Dragon Slot is a 25 line / 5 reel video slot transporting you to a fantasy land of castles, dragons, knights and beautiful princesses. Ancient scrolls, treasure chests, and fire-belching volcanoes add to the mystery. Get ready to fight the dragon to win more spins and huge jackpots.
TUNICA, Mississippi - As reported by WMCTV.com: "Workers have already started to repair the main entrance to the Gold Strike Hotel and Casino. A man crashed a car right through the front doors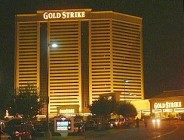 Gold Strike Casino and Hotel in Tunica early Monday morning.
"'Some guy was upset about losing money and rammed his car right through here--this is incredible!' says one casino patron.
"The Tunica County Sheriff's Department is still trying to figure out exactly why Robert White of Ringgold Georgia did what he did. They say it's possible he lost a lot of money. One thing is for sure.
"'We've never encountered anything of this magnitude--as far as somebody running their vehicle into a casino,' says Tunica Co. Sheriff K.C. Hamp.
"Casino workers say that White created a disturbance inside before coming outside and getting into a car waiting to be parked by a valet. They say that's the car that ended up in the lobby.
"...Robert White currently sits in the Tunica County Jail without bond. He faces numerous charges, including kicking the officer who arrested him."