Resorting to Casinos: The Mississippi Gambling Industry
by Denise von Herrmann (editor)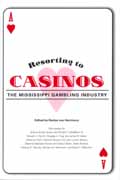 This book seeks to begin the conversation about the effects the industry and its dramatic growth have had on the politics, culture, and people of Mississippi. It provides insight into the ongoing debate as to how well the casino industry and Mississippi fit together. Political scientists, economic developers, sociologists, and policy analysts provide essays on such topics as the casino workplace, casinos and crime, the historical and cultural influences of casinos, and the economic ramifications. It provides the first multidisciplinary examination of the casino resort phenomenon in Mississippi. Additional information updates new gaming laws in Mississippi that will allow casinos to build inland on the Gulf Coast.
Read a review of Resorting to Casinos: The Mississippi Gambling Industry

Hollywood Casino
Visit hollywoodcasinobsl.com for more information about their generous Mercedes C-Class Sedan givaways, other entertaining promotions and general Casino information.
BAY ST. LOUIS, Mississippi -- Hollywood Casino Bay St. Louis is giving away four 2009 Mercedes C-Class Luxury sedans to four lucky winners. Players can start earning their entries on December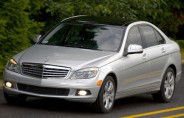 2008 Mercedes C-Class Sedan 22, 2008. The drawings will be held on April 10, 11, and 12, 2009!
Players receive one entry for every 300 points earned within a 24-hour period (3am – 3am) while playing slots, table games equivalent ($10 average bet for 3 hours), or poker (six hours). Entries must be picked up on the days earned. Entries can be placed in the drawing barrel on April 10th from 5:00 p.m. – 9:00 p.m., on April 11th from 12:00 p.m. to 3:00 p.m. and from 6:00 p.m. – 9:00 p.m.; April 12th from 12:00 p.m. – 3:00 p.m. only. Each entry is eligible for all four drawings. All players must be present to win.
Five finalists and three alternates will be selected at each of the four drawings where one finalist will win the 2009 Mercedes C-Class Luxury sedan of their choice available. The remaining four finalists and two alternates of each drawing will win $500 each in Star Play! Players must be at least 21 years old and have a FREE Club Hollywood or Director players club card. Hollywood Casino Bay St. Louis is known for hosting some of the most absurdly generous and entertaining promotions on the Coast.
Win your very own 2009 Mercedes C-Class Luxury sedan at Hollywood Casino Bay St. Louis! Details are available at Club Hollywood. Call, 1-866-7-LUCKY-1 for more information or go to www.hollywoodcasinobsl.com. Must be at least 21 to participate.
Hollywood Casino - Bay St. Louis
711 Hollywood Blvd.
Bay St. Louis, MS 39520
Toll Free Phone: 866-7-LUCKY-1
Website: www.hollywoodcasinobsl.com

Hollywood Casino features nearly 1,200 of the latest reel and video slots, video poker machines. All slots are ticket-in-ticket-out technology to make your gaming experience easy, clean and convenient. Table game players love the variety of unique table games, a 6 table poker room and a 14 station video poker bar provides a complete gaming experience.