With thousands of rhinestones and hundreds of beautiful girls, Donn Arden's Jubilee! celebrates 25 fabulous years at Bally's Las Vegas. Since 1981, rhinestone-clad showgirls and a talented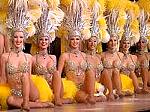 Jubilee is still going strong at Bally's Las Vegas. cast of performers have graced the stage of Jubilee!, one of the longest running shows on the Strip.
Conceived, staged and directed by the legendary Donn Arden, Jubilee! is an extravagant stage production with an initial cost of $10 million, more than 1,000 costumes, 53 songs and set pieces weighing up to four tons. All of these elements come together 12 times a week in one of the most technically complex productions in the world.
Recently voted the "world's best showgirls" by Travel Channel/BBC and featured on the cover of the New York Times - Arts & Leisure section, the gorgeous showgirls of Jubilee! are the epitome of the grace and elegance synonymous with classic Las Vegas.
"We keep the costumes in immaculate condition, hire the best showgirls in the world, and maintain the stage to the highest technical standards," said Chris Nelson, Director of Entertainment at Bally's Las Vegas. "When you entertain 11 million customers, to be good isn't enough, you have to be the best every night."
Twice nightly, nearly 100 dancers, singers and specialty acts grace one of the most technologically advanced stages. These elaborate sets showcase such spectacular sequences as the enchanting "Samson and Delilah" and the "Titanic" which are beautiful examples of how stage and costume design combine to create a spectacular production.
Jubilee! performs nightly at 7:30 p.m. and 10:30 p.m. Dark on Fridays. Tickets can be purchased at the Bally's Box office for $65, $77 and $82. Call 877-374-7469 for tickets or more information.
Bally's Las Vegas is a Harrah's Entertainment resort. Perfectly situated at the center of the famed Las Vegas Strip, Bally's offers the classic style and timeless charm of vintage Las Vegas and features more than 2,800 rooms, non-stop gaming, a multitude of distinctive dining options, including the renowned Steakhouse and Sterling Brunch. Bally's is also home to Donn Arden's Jubilee!, the legendary stage spectacular.
Bally's Las Vegas
3645 Las Vegas Blvd South
Las Vegas, NV , NV 89109-4307
Phone: (702) 967-4405
Toll Free Phone: (888) 742-9248
Website: www.caesars.com/Ballys/LasVegas

Bally's is home to The Strip's most eye-catching review. Annually rated as a top show in Las Vegas, Donn Arden's Jubilee! has dazzled crowds with larger-than-life productions and gorgeous showgirls for more than 20 years. The casino features a full selection of slots and table games.