The following is an excerpt from Gaming & Golf In The Upper Midwest, an article written by Dan Donarski. You can read this and other great articles in the May issue of Midwest Gaming & Travel.


Golfing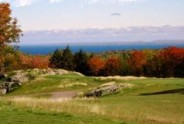 The award-winning public golf course Greywalls is near Marquette's Ojibwa Casino
in Michigan and Minnesota just keeps getting better. Casino resorts were quick to key in on golf as a major added attraction and built some mighty fine courses. Other developers in these areas have too, making these states superb "play and play" destinations. You'll find more public courses in Michigan than in any other state.
Grand Traverse Resort -- The rumors flying around Michigan golf and resort circles a few years ago proved true. The Grand Traverse Band of Ottawa and Chippewa Indians did bargain and did purchase the Grand Traverse Resort and Spa, including its three superb golf courses.
Just three years ago, on March 31, 2003, the tribe announced the formal purchase of the expansive resort. The resort itself dominates the skyline just north of Traverse City in the township of Acme just off the shores of Grand Traverse Bay. Its towering facade sports 660 rooms along with 85,000 square feet of meeting space and the fabulous Trillium Restaurant. The ground floor houses delightful shops, more restaurants and you'll find a complete spa as well. In other words, the resort is almost a city unto itself.
A multi-million dollar renovation was recently completed that saw the rooms completely reappointed to a stately elegance. The fitness center and pool area were brought up to world-class standards.
Customer service became the focal point for the staff and the resort has been brought back to brilliance.
Then there are the golf courses, three of them. Spruce Run, opened in 1979; The Bear (designed by Jack Nicklaus), opened in 1985; and The Wolverine (designed by Gary Player), which opened in 1999. This resort is one of golf's most stunning complexes no matter where you search. The golf product here is so good that it was the site of the Ameritech Senior Open a few years ago and has acted as host of the Michigan Open every year since 1981. Further proof of the care taken in the golf product that the resort offers comes from Golf Magazine, which named Grand Traverse Resort a Silver Medal Resort, and other awards that have come from the National Audubon Society and the Golf Course Superintendents Association.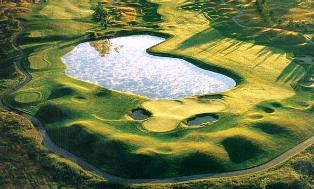 Of the three courses, Spruce Run is the most forgiving. You'll find it very appropriate for any skill level. Both The Bear and The Wolverine offer some definite challenges. The Bear, a links-style course, is highly versatile. The difficulty, which is always on the high side, can be downright confounding if the greens-keepers let the genie out of the bottle. Shot placement is everything on The Bear.
Incredibly well-protected greens, interesting pin placement, and fairways with obstacles that almost come to life and snatch your ball are a fact of life on this course. The Wolverine falls between the other two in difficulty. It is simply fun and challenging. The fairways are generally wide open and the bunkers are easy to determine so you can afford to put some strength in your swing.
Chipping and running is a real joy on this course. But, be forewarned. This course has a sneaky habit of lulling you into complacency. If you allow that to happen, the course's brightly- polished teeth become sinister fangs. In other words, keep your head in the game.
Bay Mills Resort and Conference Center -- Just west of Sault Ste.
Marie the Bay Mills Band of Chippewa Indians opened up Bay Mills Resort a decade or so ago. The casino hotel complex is constructed on a northwoods theme with the exterior appearing as an expansive woodland lodge. The entire complex overlooks picturesque Waiska Bay, on the east side of Lake Superior. One of the objectives for the tribe when this complex was built was to create a complete resort.
A resort with something for everyone and a golf course was at the top of their wish list. They built the course, Wild Bluffs, soon after the resort opened. It is, in and of itself, a prime reason for coming into Michigan's Upper Peninsula. Designed by noted architect Jerry Matthews, this course offers gorgeous views of Lake Superior and is punctuated throughout by rolling hills, enough water to make things a bit dicey at times, and, of course, numerous bluffs that take the game to new heights.
"Wild Bluffs has to be one of the prettiest courses in the state," says avid golfer and gamer Joan Bestoff of Alma, Michigan. Bestoff said much the same when we interviewed her for an initial article about the property a few years back. Then it was still considered a young course. And now?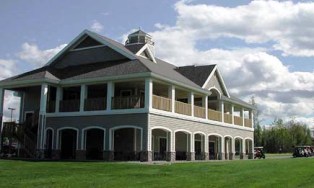 "Wild Bluffs is still my favorite course in the state. There are others more challenging, others more forgiving, but none have the views of this one. It is quite a challenge. The casino has been friendly, too." For the third year in a row, one of the premier Canadian professional tournaments was held here and the professionals found it gave them all they could handle. Crowds came from every province in Canada and were joined by fans from more than a dozen states. Bestoff points to the dynamic layout of the course as a high note.
"The builders of this course took what was here, and instead of changing everything kept it as natural as possible. When you play here it is like you are playing through a nicely manicured glade in a vast forest with Lake Superior as a backdrop." As far as challenging golfers, Bestoff added that the design of the greens allows a wide range of pin placements, which makes the course new again each time you play it. The fairways are well groomed too, and none too wide making shot placement a real key to getting a good score. "You need to know when to lay up here or you'll get yourself in some trouble."
The Rock -- The Rock is privately owned and located on Drummond Island, on the far east side of the Upper Peninsula. From the St. Ignace or Sault Ste. Marie casinos, it is a short 45 minute drive. From the casino in Hessel, it is 30 minutes. It's worth the drive.
Originally the playground of the Domino's Pizza Company executives, the course is now open to you and me. Carved out of dramatic limestone out-croppings and located inside a forest where cedars perfume the air and deer roam, this is an immaculate course in a wilderness setting. You will only see a neighboring fairway from just a few of the holes. Everything else is well masked, giving you the impression that you are the only one on the course.
Water hazards do play a major role on many of the holes. The bunkers are just a bit more hospitable. Designed by Harry Bowers, a protégé of Robert Trent Jones, you'll find a golfer's hand involved in dog leg and green placement. Not long ago the Detroit Free Press rated The Rock as one of the state's Top 10 Resort Courses. Golf Digest awarded the course four stars. Mike Watson of Sault Ste. Marie plays The Rock regularly. "Even when it is busy the course stays in superb condition. The greens-keepers and staff really have an eye for what is needed and take care of things. You feel like you're by yourself on the course due to the design. Drummond Island is such a pretty place all by itself, The Rock just makes it more appealing."
Greywalls -- The newest course of noteworthy praise is in the neighborhood of Marquette's Ojibwa Casino. How noteworthy? Just last year Greywalls was named one of the Top 10 New Courses You Can Play by GOLF magazine. And, just this past January, and based on a panel of 800 golfers from across the nation, Greywalls has been ranked number three in Best New Upscale Public Courses in America by Golf Digest magazine.
The course opened for play just last year. Technically one could say it is a young course. Realistically it is fully mature. Designed at every corner with the natural landscape in mind, majestic trees line the course. As do the granite rock out-cropping that gives the course its name. Twisting and turning alongside wetlands, through the forest, and due to some significant elevation changes and some stunning views of Lake Superior, this course has all the eye candy that a golfer could want.
The fairways are exceptionally well-maintained, but don't for a moment think of them as smooth. Most have a series of intriguing undulations along their length; think of smooth as silk mogels on a ski slope and you'll have some idea of these. Club pro Marc Gilmore is rightfully proud of his course but he passes the kudos on to others. "Any accolades that Greywalls receives are testimony to just how strategically sound and visually stunning the course is."
The Land of 10,000 Lakes may not have that same number of golf courses but Minnesota takes a back seat to no state when it comes to challenging and fun courses. Interspersed between the lakes and rivers, winding through majestic forests and past beautiful rolling prairie, Minnesota's golf courses provide all the eye candy and challenges for which the avid golfer may be looking. The advent of casino gaming in the state so many years ago brought in more than a few dollars to various Native American tribes. This money was not squandered. The leaders of the tribes knew that in order to more fully serve their guests they needed to provide more than just slots and table games. More than a few of the tribes chose to build golf courses on their property. And not just any golf course, either. The tribes built championship 18-hole golf courses. They hired the finest golf course designers and pros. And, something very important, they built the courses with the land in mind. Using the natural folds in the land, capitalizing on its own inherent beauty, the courses they built can only be described as picturesque.
Black Bear Casino: Black Bear Golf Course -- Duluth isn't exactly the first city that comes to mind when the subject of golf comes up in conversation. That's all about to change thanks to the Fond du Lac Band of Lake Superior Chippewa. This tribe has developed a magnificent golf course adjoining the Black Bear Resort Casino located in Carlton, a short hop-skip-and-jump south of Duluth. The course has been carved out of the native pine forest and is 6,500 yards from the championship tees with many water features, undulating fairways and greens. The new 18-hole, par 72, Black Bear Golf Course was opened in the summer of 2003. The Fond du Lac Reservation retained the design services of Gilmore Graves Golf, Inc., who also assisted with construction management. The course took four long years in the design and construction process. And the construction was accomplished entirely by Fond du Lac Band Community members.
Reservations for golf groups and conventions are accepted up to one year in advance and tee times are available one month ahead for daily fee players. Something I particularly like is that "walkers" are permitted. It's nice to see that Black Bear has left the fitness part in the game. Fees are competitive, and accommodations are first class. Jason McGregor, a Twin Cities golf enthusiast likes this course for a lot of reasons.
"Black Bear is one of northern Minnesota's only championship courses. The rugged beauty of the Lake Superior shoreline is by itself a drawing card to visiting the area as are the forests and many waterfalls found just to the north. But, as a golfer, I want golf and I want it to be challenging. Black Bear gives me all of that, and yet is still fine for casual players. What more could a golfer want besides a very good course, beautiful scenery and a great city?"
Treasure Island Casino: Mt. Frontenac Golf Course -- Imagine lining up that 12-ft putt for birdie when you're standing 500 feet above the mighty Mississippi River Valley overlooking 50 miles of absolutely stunning bluff country beauty. Southeastern Minnesota is where you'll find Mt. Frontenac. Owned by the Prairie Island Indian Community, the same folks who own Treasure Island Resort and Casino, located in Red Wing, this is a dual purpose facility that rates highly in both faces. In the winter months Frontenac serves as a ski resort, but now, when the balmy breezes of summer caress the land, you'll find it a magnificent golf course. Mt. Frontenac isn't located with the casino but the short 15-minute drive is easy.
The course is not that difficult to play, but it is certainly no "gimmee." That means you'll be challenged but not humbled, no matter your skill level. It is however, one of the prettiest courses found in the state. Tim Lancaster, of St. Paul, plays Frontenac regularly.
"This course is simply a beautiful place to play. It's a mature course with huge trees and enough water to make things quite interesting. The greens-keepers know how to take care of a golf course so the course never appears tired. It's by far one of my most favorite places to play."
Expect to find expansive views of the Mississippi River Valley and the glacially-sculpted rolling hills so typical of this region of the state. Covered by oaks and maples the setting is idyllic. So much so that just a few years ago, in 1999, Mt. Frontenac was voted the Most Scenic Golf Course in the Minneapolis/St. Paul metro area. With the large numbers of golf courses scattered around the Twin Cities that is extremely high praise. That isn't the only accolade this course has received. In 2004, Golf Digest magazine put Mt. Frontenac on its "Places To Play" list. Just a few years ago the course received a four-star rating by the same magazine. USA Today Weekend named the area as one of "America's 10 Most Beautiful Places." It's On The Rocks Restaurant and Bar has been named as one of Southeastern Minnesota's Top 3 After Golf Restaurants by Rochester magazine.
Ken Arneson puts all this in simple terms: "It feels amazing ... You feel like you are playing on top of the world." As well you should feel just that way. You'll be golfing in a natural world of wonder.
The rolling fairways skirt close along the bluffs very edge giving you a spectacular birds-eye view of the high topped hills. Looking south the azure waters of Lake Pepin dominate the landscape, it's numerous sailboats with brilliant white sails accenting the blue waters and surrounding forest. Look north and the rugged rocky crags of the Hiawatha Valley take your breath away with their commanding presence.
Mike Knowles of Madison, Wisconsin plays here as often as he can break away from his job at the University of Wisconsin. "This is 'my' course. It's where I play whenever I can, which over the past two years has been somewhere in the 30-round range. The course is beautifully designed and the maintenance is top-notch. I'm also a fan of the Treasure Island Casino, as is my wife. We get to take part in two activities located together for the most part, we get great service, and we are in simply one of the country's prettiest areas. I like this course a lot."
Jackpot Junction: Dacotah Ridge Golf Course -- Dacotah Ridge Golf Club, a nationally recognized 18-hole championship golf course designed by acclaimed architect Rees Jones, is located four miles east of Jackpot Junction Casino Hotel. This breathtaking championship layout stretches across 7,109 yards of uniquely diverse terrain.
Jackpot Junction Casino Hotel is located in the southwestern section of Minnesota, 110 miles from Minneapolis/St. Paul. The rugged prairieland character of the Dacotah Ridge Golf Club will charm golfers from around the world. Rees Jones, the nationally acclaimed architect, has created on this land a natural, classic course that blends seamlessly with the surrounding prairie landscape. The course itself is spread over 240 gorgeous acres. Wabasha Creek winds through eight of the holes but that's not all the water you'll find. This is Minnesota, remember those 10,000 lakes. Dacotah Ridge has one of these, a 14-acre puppy lake that comes into play on five of the course's holes.
One thing golfers considering coming to Dacotah Ridge should do is check out the website first. Each month a different hole is featured in detail. Think of this as a "virtual" caddie. The hole is mapped out and playing suggestions are offered in order to play the hole with a bit of "course" sense. Tiger Woods doesn't have it any better.
Take the 11th hole, which was recently featured as an example of the virtual caddie. The shot you need to play the 11th at Dacotah Ridge successfully is not a specific shot but rather a firm mental approach to overcome the dreaded shot over water. The distance required to carry the water can range from as little as 90 yards from the forward tee to approximately 175 yards from the tournament tee. If you play the appropriate tees for your skill level the distance required to hit the shot should not be too much of a problem. The challenge is to mentally block out the water and just execute your normal swing to achieve the distance required.

Grand Casino Hinkley: Grand National Golf Club -- The Grand National Golf Club is an 18-hole championship golf course, located just a few minutes from Grand Casino Hinckley. One of Minnesota's best public courses, Grand National offers a superb layout set on gently rolling hills with wide, bent grass fairways and stands of mature, native trees. Graced by ponds, marshes and creeks, Grand National provides both beauty and a unique challenge. It is enjoyable for all levels of play, with 6,900 yards and four separate tees.
There are a few things to remember and one to forget. Remember that this is a true championship course. Remember that it comes with all sorts of interesting challenges that make golfers cry for more. And, forget about this often chanted mantra: all championship courses are very pricey plays. Not the Grand National. Not even close. Playing the Grand National is a steal and may be the biggest bargain in golfing on any championship course, anywhere.
"The course plays very well. There are some major challenges but I call these forgiving challenges," says Marcie White. "If you play it with your head on your shoulders and don't try to get cute you'll play safe. Laying up is big here, at least for the ladies. More men would be wise to do the same or the bunker monsters will strike."

Mystic Lake Casino: The Meadows -- Think of a forest glade and you'll have a good idea about The Meadows. Garrett Gill and Paul Miller teamed up on the design of the course and created a superb golfing experience. This is a new course, the driving range will be open for the first time this season along with a full-service clubhouse. But that does not mean it isn't mature enough to play. Not by a long shot. Mature trees line the course. Wild flowers and fescue mounds separate the holes. Small waterfalls cascade down the course of a beautifully winding creek. Wetlands attract as many ducks as they do balls. It is a forest glade popped right out of a story book.
You'll really like the golf carts -- they all come equipped with a neat Global Positioning System, or GPS. What makes this so cool is that the exact yardage to the pin is read from the GPS screen and the hazards are laid out in front of you, too. It's better than having a caddie on board with you. You'll even be prompted by the GPS with playing tips based on your exact lie in relation to the pin. That is simply too cool.
With its close proximity to the Twin Cities, The Meadows has become a very popular course. Susan Daley uses the course as a primary excuse to visit the Greater Minneapolis area while her husband takes the kids to the Mall of America. "My girlfriends and I drag our husbands with us when we come to play. They are in charge of the shopping, or at least some of it, while we play the course. The guys are bigger casino players than us, so at night is when they hit the tables and we have the kids. It's a great mix, and a great course."
Fortune Bay Casino: The Wilderness -- When you think about northern Minnesota, golf isn't exactly the first thing that comes to mind.
That's all about to change with what the Fortune Bay Casino in Tower has accomplished. The Wilderness at Fortune Bay is receiving some mighty high accolades. Just last year Golf Digest named The Wilderness as the "Best New Upscale Public Golf Course." That, dear duffer, is serious praise. Better still, the praise is warranted.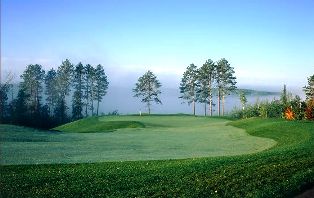 The Wilderness was literally carved out of the majestic and historic Iron Trail. Carved with no less than $1 million worth of dynamite.
Like the Iron Trail, and the entire Tower, Minnesota, area this is high granite country, punctuated with real mountains and tall timber.
Now add incredibly beautiful Lake Vermillion to the mix and you have a northern golf escape beyond compare.
You will become mesmerized by the beauty of this special place but take heed, the course knows that it is both beautiful and more than a handful of challenge. Playing at a long 7,200 yards the course gives the long-ball hitters all they can handle. Four tee boxes will allow even the most casual of golfers the ability to thoroughly enjoy this gem.
Designer Jeffrey Brauer handled his duties with a keen eye to detail. Taking the natural landscape, and molding it into a signature course, he has created what just may be the most picturesque course in the entire state. From the first tee to the last green The Wilderness exudes a classic beauty that is all too seldom seen in today's design.
Fortune Bay Resort & Casino
1430 Bois Forte Road
Tower, MN 55790
Toll Free Phone: (800) 992-PLAY (7529)
Fax: (218) 753-6404
Website: www.fortunebay.com

Fortune Bay Casino is a luxury hotel with an action-packed casino featuring over 700 slots, blackjack, and poker. There is also an 18-hole world-class golf course, full-service marina, secluded cabins, rustic RV park, complete conference and banquet center, and award-winning heritage center. The resort is on the shores of Lake Vermilion, surrounded by the wild, pristine beauty of Minnesota's Northwoods.
Bay Mills Resort & Casino
11386 West Lakeshore Drive
Brimley, MI 49715
Michigan's only waterfront casino, Bay Mills Resort & Casinos opened in November 1995. The casino gaming area is a spacious layout with 15,000 sq ft of gaming. Bay Mills has nearly one thousand slot and video poker machines and several table games.
Ojibwa Marquette Casino
105 Acre Trail
Marquette, MI 49855
Phone: (906) 249-4200
Toll Free Phone: (888) 560-9905
Website: www.ojibwacasino.com

At Ojibwa Casinos, you'll find all of your favorite reel video and video poker machines, with over 300 to choose from. Play with as little as a penny on our ever popular progressives. Multi and single denomination games are available ranging from 1¢ - $5.00.
Turtle Creek Casino
7741 M-72 East
Williamsburg, MI 49690
Phone: 888-777-UWIN
Fax: (231) 534-8888
Email:
gtrc@casino2win.com
Website: www.casino2win.com/turtle_creek
Turtle Creek Casino is located 4 miles east of Traverse City on M-72 in Williamsburg, Michigan. Featuring over 1,200 slot machines from penny to $100 denominations. Play your favorite table games including Blackjack, Three Card Poker, Four Card Poker, Let It Ride, Roulette and Craps.