The following is an excerpt from Golf & Gaming In The Upper Midwest, an article written by Dan Donarski and Pamela Soderberg. You can read the entire article in the April issue of Midwest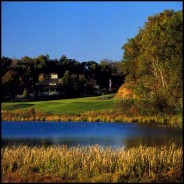 Trappers Turn Golf Complex is one of many excellent places to play golf in Wisconsin that are close to world-class casinos. Gaming & Travel.
Wisconsin
Ah, golf in Wisconsin. Every northern golfer lives for that first warm spring day when he or she can get out and enjoy swinging for the first time after a long winter of dreaming about hitting the links. After that first perfect drive, all is forgiven of Mother Nature, and the golf season begins. Our Wisconsin courses take a back seat to none. And with more public and private golf courses than major golf meccas like Arizona and South Carolina, there are plenty from which to choose. What's especially nice for my fiancé and I who like to golf and gamble are the clusters of courses that can be found around casinos throughout the state.
One of our favorite areas to play and play is Shawano Country, which has some relatively undiscovered golf courses full of character and charm. Located roughly midway between Green Bay and Wausau (a few miles north of Hwy 29) are four golf courses and two casinos, Menominee Casino Bingo Hotel and Mohican North Star. The latter is owned and operated by the Stockbridge-Munsee Tribe, which also owns the nearby 18-hole Pine Hills Golf Club.
The Pine Hills course boasts one of the best layouts in Wisconsin and a beautiful log cabin clubhouse. Cut out of tribal forestland, the course is working its way back into tiptop shape under the caring guidance of club manager and golf pro, Lloyd Young. At times the course appears easy, from the wide-open stretch of confidence building 2nd through 4th holes, and the "ace-lurking" 105-yard 17th hole. However, the view from the knee-knocking elevated 1st and 10th tees, with blind shots over or around 100-foot pines (your choice) is not for the faint of heart. You'd do well to take a cart on this course, unless you are a serious jogger. You will use all the clubs in your bag, but you will rely on the one you hit the straightest most of the day. Lots of birdies and a few eagle chances will present themselves from the tee, but the pines, hills, sand, and distractions of nature, such as the occasional deer or bear meandering the course, will readily turn your best efforts into bogies and doubles.
Another nearby, and woman-friendly course as evidenced by tee placements, is the Golden Sands in Cecil, on the east of 13-mile long Shawano Lake. The Sands is more wide open than Pine Hills, but with some length and interesting water hole placement, it could blur your visions of a par round. Two of my regular "Waterloos" are the No. 4 par five and the par four No. 10. The par five No. 4 features two straightforward shots to a narrow firm green over a ball-thirsty water hole. If you can hit a high soft short to mid iron, you may hold this green and not bounce over it into the woods and more trouble. But pars and birdies are the exception rather than the rule here.
Another fun hole, if you have the patience to play position golf, (or otherwise a pencil with an eraser) is the No. 10. The men will have to hit two shots over the water, laying up with a 6 to 8 iron from the tee, and then hitting anywhere from a 7 iron to a wedge over more water to a larger green, which is a little more forgiving than No. 4. Golden Sands is definitely worth the trip, not only for the golf, but also for the 19th hole and great meals served here.
Two more courses you'll want to play in this area are the Riverside Golf Course near Clintonville (about 15 miles south of Shawano on Hwy 22) and Shawano Lake Golf Club on the north side of its namesake. Riverside has many memorable holes, including two side-by-side par threes on the back nine, one of which sports a large island green. The clubhouse has a great view from the 19th hole and features great lunches and reasonably priced dinners.
Getting to the Shawano Lake course is like stepping back in time, with old cabins and resorts dotting the lakeshore. Throughout the area, drinks and meals are reasonably priced, as is the golf. The Lake, as the course is called by regulars, which dates back to 1920, is a flatter course lined with mature oak trees that will snag an errant tee shot more than once on your round.
About an hour's drive northeast up Hwy 32 is Potawatomi Bingo Northern Lights Casino in Carter. Potawatomi's new casino, attached to its Indian Springs Lodge, is scheduled to open by early summer. Some 40 miles west of Carter is the recently renovated Mole Lake Casino, operated by the Sakagoan Chippewa Tribe. The two 18-hole golf courses in this area get a lot of play on the weekends, but are a haven for golfers who want to take golfing and gambling trips during the week.
The McCauslin Brook Golf course is one mile east of downtown Lakewood, off Hwy 32. The Brook is a very playable 18 hole par 70 (35-35), with a longer fairly wide, open front nine and a shorter, much more scoreable back nine (if you can stay out from under the scattered pine trees). It has a great bar and excellent dining facilities. The other area course is the Nicolet Country Club, located just one block south of Hwy 8, out of Laona. This too is a very playable course with it's par 35 front nine and par 32 back nine. You can score on this course, but you have to play position golf, and tee off with irons on several short severe dogleg par fours. The locals know which trees to hit over to cut the corners, but you will find as many of their balls as they will of yours. The course has a unique grouping of three par three finishing holes in a row. If you par one of three, you should consider yourself successful. More than one, you are good. There are plenty of birdie opportunities to make up for those bogies elsewhere.
The Green Bay and Appleton areas are home to numerous golf courses, as is the picturesque higher rent district of Door County,just up the thumb peninsula. Two of the most renowned public courses around Green Bay are the 18-hole Brown County Golf Course and the 27 holes of Thornberry Creek. Oddly enough, they are less than four miles apart on the northwest side of Green Bay, just west of Hwy 41 and south of Hwy 29. I haven't played Brown County since high school, I just know that it is always in great shape and tougher than your average course, and definitely worth its higher price tag. Thornberry is full of beautiful and memorable holes that will bring you back year after year. You will swear that you should have done much better there, as you gradually tossed away shot after shot, and can't figure out how that happened. The course is always in great shape and has beautiful greens. The nines are a definite contrast here, as some wind their way through the woods, while others work their way through a subdivision of millionaires. One nine even has two holes and flag placements on each green, so you can play a different 18 holes on the same nine. Both of these golf courses are within 15 minutes of all five Oneida casinos.
Probably the most blessed of Tribes in Wisconsin with the sheer beauty and variety of golf courses surrounding their casinos is the Ho Chunk nation. Their casinos, spread from their biggest Ho Chunk property in the southwestern Wisconsin Dells area to their Central Wisconsin, Rainbow Casino in Nekoosa, and nearby White Tail Crossing in Tomah, up to their Majestic Pines property near Menominee, Wisconsin, on the way to Minneapolis. And there is championship golf to be found the entire way, priced to meet all pocket books.
Everyone familiar with the Wisconsin Dells will know about Ho-Chunk Casino Hotel in Baraboo, the largest of the Ho-Chunk Nation's five Wisconsin casinos. Every golfer who is familiar with the Dells will know about the 27-hole Trappers Turn golf complex, developed by former Wisconsin golf pro and commentator Andy North. Straddling gently rolling hills, some carved out of old growth woods, this course will subtly eat you up if you spend too much time watching the deer and feeding the black squirrels. In this area the scenery from one course to the next gets more beautiful as you go. When scheduling your next trip to the Dells, must plays include Christmas Mountain, The Wilderness and Devils Head. Take your camera and have plenty of film.
If you're driving north up Hwy 51, you'll have tough choices to make when you hit the Wisconsin Rapids and Stevens Point areas. Do you play the 36-hole complex at Lake Arrowhead, featuring the Pines and the Lakes courses, or the Ridges, located within the city limits of Wisconsin Rapids? Or do you hit the famed Sentry World course in Stevens Point? The answer is, if you have the time and money, play them all.
Working your way up Hwy 94 towards Black River Falls, you'll come upon Skyline, a newer and highly-rated golf course. It is fast becoming one of the premier golf courses in western Wisconsin, with its beautiful views and lush conditioning. All of these courses have many holes that are camera-worthy, and for sure, stroke-worthy. This side of the state is perfect for a gaming and golf getaway. There are many other courses in the area, but these are some of my favorite public courses.
As long as you have the clubs in the trunk, consider driving a little further north to St. Croix Casino in Turtle Lake, and on up to Hayward's Lac Courte Oreilles (LCO) Casino, hometown of the now famous Tina "Lumber Jill" Scheer, the first exile from this season's Survivor show. In nearby Sommerset, you'll find the St. Croix National golf club, Midwest home of the John Jacobs golf school. This past year, LCO opened a Pete Dye course right across the street. Dubbed the "Big Fish," it was named one of Golf Digest's Best New Golf Courses of 2005.
We haven't made it to the northern tip of Wisconsin and the Lake Superior Apostle Islands area but we hear that it's beautiful, and guess what? There's a casino called Isle Vista in Bayfield and another, Bad River in Odanah to the east between Ashland and Ironwood, Michigan. We hear tell that the view from the Apostle Highlands golf course is as incredible looking down, as it is looking up from the Madeline Island golf club, which requires a ferryboat ride to reach.
If your travels lead to north-central Wisconsin and the Lac du Flambeau, Minocqua, St. Germaine and Eagle River areas, you will again be venturing into a prime golf and gambling area. The Lake of the Torches Casino is just 20 minutes from Timber Ridge, one of the prettiest and best manicured courses in the state. It is located just off Hwy 51 on the south side of Minocqua. Other courses located within a 35-minute drive of the "Torches" are Trout Lake, St. Germaine and the Eagle River Country Club. They are all beautiful, tree-lined courses with memorable holes. And like many northern Wisconsin courses, they will earn the respect they deserve. You will do better playing the clubs you hit straight, rather than the clubs you hit long. Make sure you have a camera in your bag, so you'll have lasting memories of the scenery and wildlife you'll encounter.
Each summer we make it a point to play many courses around the Milwaukee area, which is home to Potawatomi Bingo Casino. Milwaukee County has one of the finest collections of public courses in the country, including Brown Deer Park, former home of the PGA's Greater Milwaukee Open, Dretzka, Whitnall, and Currie Park. They're kept in great shape, despite heavy play. Some fun courses, not as heavily played, just north of Milwaukee, but not yet to the golf kingdom of Kohler, include the sporty 18-hole Squires golf course overlooking Lake Michigan just north of Port Washington and the very well manicured nine-hole Edgewater Golf Club in Grafton. Edgewater has some of the best greens in the area, and the best walleye dinner I have ever eaten in my life, bar none.No discussion of Wisconsin golf courses is complete without mention of the golfing mecca located between Milwaukee and Green Bay. This includes "The Bull" designed by Jack Nicklaus, and four world class Pete Dye courses, which were brought to the Sheboygan area by plumbing magnate Herb Kohler. Each one has its own character and richly deserved reputation. The Bull is target golf at it's finest, and it's a little more reasonably priced than the Kohler courses. The Village of Kohler courses include the beautiful and demanding River Course and the Meadows/Valley Course, which has sand traps as large as battleships. Some line the fairways and some are right smack in the middle of them. My fiancé once walked down a ladder with 18-steps to get into a sand trap to reach his ball. Needless to say, he didn't get out in "one."
I haven't paid the $200 plus it takes to play the other two Dye/Kohler courses in Haven, just north of Sheboygan, Whistling Straits and the Irish Course. My game and my pocketbook just don't quite justify it yet. My fiancé has, and the only other time I've seen him with that broad a smile on his face walking off number 18 on the Straits course, was when I said "yes" a year ago last Christmas. But who knows, maybe between the casinos in Milwaukee and Green Bay, or elsewhere around the state, you'll hit it big enough to pay for all the golf you want to play at these and some of the other 400 plus top notch golf courses in Wisconsin. And we've got another secret to share, the weather is usually very mild and comfortable. Last summer was one of the best golf seasons on record. Enjoy the golfing and the gambling in Wisconsin …we will.