Free Slot Tournaments Going on Now at Roxy Palace!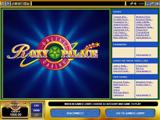 Roxy Palace has slot tournaments 24 hours a day with guaranteed freerolls and free buy-ins. There's a huge variety of types of tourneys to enjoy. Sign up now, join the fun and win some cash!
Find Loose Slots... Play Online!
Roxy Palace has some of the loosest slots on the web. Their selection is huge and with less overhead, employee costs and taxes than your typical brick and mortar casino, they can afford to give back a bigger percentages of bets back to the customer. If you're looking for loose slots, play online!
LAS VEGAS, NV - They're ba-ack! Hard-hitting hell-raising heroes Limp Bizkit return to wreak havoc in the U.S. with their first stateside show in eight years! The band will perform a FREE concert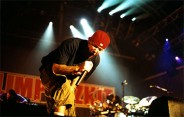 Limp Bizkit will be performing a free live show at the Palm's Pearl Theater July 18th at the Pearl Concert Theater at the Palms Casino Resort in Las Vegas on July 18th. First come, First serve – you know the drill - Limp Bizkit fans will have to get in gear!
Limp Bizkit are in the middle off their 2009 "Unicorns N Rainbows" tour, which has so far rolled across Europe and Eastern Europe, wowing Bizkit-starved fans in 20 countries. Of their explosive June 12th show at the UK's Download Festival, one reviewer noted: "Within seconds, the staccato riff of 'Break Stuff' had regressed everyone to a screaming teen" and that "every song provoked roars of approval, every line of 'Nookie' belted out as if the crowd had written it." Heavy-music bible Kerrang! anointed Limp Bizkit with their April cover.
Fred Durst, Wes Borland, Sam Rivers, John Otto, and DJ Lethal are gearing up to record their first new studio album with the original line-up since 2000's worldwide 12x-platinum Chocolate Starfish and the Hot Dog Flavored Water. As Durst recently told the NME: "I'm having a great feeling about going in and doing our record, more than I have about any of our albums before. It's not going to be a watered-down version of Limp Bizkit, it's going to be a more explosive, more addictive, more driven version of Limp Bizkit."
Flip/Interscope Records will announce more details and a release date in the coming months. The band's first three albums have sold more than 20 million copies in the U.S. alone, and another 13 million in the rest of the world.
For more on Limp Bizkit, please visit their official website at www.limpbizkit.com.
Palms Las Vegas
4321 West Flamingo Road
Las Vegas, NV 89103
Phone: 702-942-7777
Toll Free Phone: 866-942-7777
Email:
info@palms.com
Website: www.palms.com