NIAGARA FALLS, Ontario -- The enormous Grand Hall at Niagara Fallsview Casino Resort filled with screams of joy Sunday afternoon as 750 lucky people each won a pair of tickets to see the popular daytime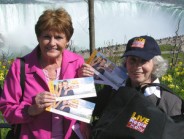 Orangeville, Ontario, resident Veronika Kulchar (right) and St. Catharines resident Bette Gare were the first and second people in line at Niagara Fallsview Casino Resort trying to win tickets.
talk show Live with Regis and Kelly when the show rolls into Niagara Falls, Canada, for two tapings on May 22.
Fallsview gave the tickets away in an enormous public draw that saw dedicated fans of the show's hosts, Regis Philbin and Kelly Ripa, line up at the resort from the crack of dawn right up to the draw's scheduled 3:30pm start time.
"We knew there was going to be a lot of excitement over this draw, but I don't think anyone expected the kind of tremendous enthusiasm we saw in these people," said Steve Wolstenholme, General Manager, Niagara Fallsview Casino Resort. "There were people actually crying for joy when they opened their envelopes and discovered they had won."
The level of enthusiasm in the hall was further amplified when a special greeting to all the contestants from Philbin and Ripa was shown on several large screens located throughout the room.
Veronika Kulchar of Orangeville, Ontario, was the first person in line, arriving to take her place at 5:40am. She was also the first winner, walking away with a pair of tickets to the 9am show. The next two people in line - Bette and Jim Gare of St. Catharines, Ontario, scored the day's first double-header. Bette won a pair of tickets to the 9am show and Jim snagged a pair for the 11am show.
"I'm certainly glad Ms. Kulchar and the Gares had so much luck," said Wolstenholme. "They were here just as the sun was rising over the Falls and they left just as the sun was setting over our hotel tower."
Live with Regis and Kelly will broadcast live coast-to-coast at 9am on Monday, May 22, from The Niagara Parks Commission's stunning Oakes Garden Theatre in Niagara Falls, Canada. A second show will then be taped at 11am for broadcast on Tuesday, May 23, at 9am. (All times EST.) To allow as many people as possible to see the show, one live audience will see the show at 9am. Oakes Garden Theatre will be cleared to allow a second audience to see the next show.
The show was brought to Niagara Falls, Canada, thanks to a five-way partnership that included Niagara Fallsview Casino Resort, The Niagara Parks Commission, the City of Niagara Falls, Canada, the Ontario Ministry of Tourism and the Canadian Tourism Commission.
Live last broadcast from Oakes Garden Theatre on September 9, 1996 - exactly three months before Niagara Fallsview Casino Resort's sister property, Casino Niagara, opened its doors to the public for the first time right across Falls Avenue from the meticulously-manicured outdoor amphitheatre.
Regis Philbin, the long-serving co-host of Live, will also be performing his nightclub-style variety show with a 22-piece orchestra in Fallsview's Avalon Ballroom on May 21 - the night before his TV appearances in Oakes Garden. This show is sold out.
Built on a cliff overlooking the world-famous Horseshoe Falls, Niagara Fallsview Casino Resort is the largest and most elegant gaming resort facility in Canada and the crown jewel in Niagara's stunning array of wonders. It features a casino with over 3,000 slot machines and 142 gaming tables, a 374-room luxury hotel, a full-service spa and fitness centre, a 1,500-seat showroom, dozens of dining and shopping options, over 30,000 square feet of meeting and convention space and the only wedding chapel in a Canadian gaming facility.
The Niagara Parks Commission (NPC) is an action packed nature/entertainment park centered around the magnificent Niagara Falls. NPC is the authority on Niagara Falls and the Great Gorge with a mission is to preserve and enhance the natural beauty of the Falls and the Niagara River Corridor for the enjoyment of visitors while maintaining financial self sufficiency.
The City of Niagara Falls, Ontario, Canada, is a world-class tourism destination playing host to over 12 million visitors annually. As well as being home to the world-renowned cataracts, Niagara Falls boasts world class gaming facilities, an array of attractions, an excellent variety of accommodation choices, an outstanding selection of restaurants and dining experiences, premier wineries and is quickly becoming a major golf destination.
The Ontario Ministry of Tourism supports delivery of high quality tourism experiences to Ontarians and visitors to Ontario. Promoting a sustainable, customer-focused tourism industry helps improve our quality of life, increase pride in our communities, and increase economic growth.
Industry-led, market-driven and research-based, the Canadian Tourism Commission (CTC) is a Crown corporation that works in partnership with the private and public sectors of the tourism industry to market Canada as a four-season destination.