OTTAWA, Canada – As reported by Canada.com: "Ontario's auditor general says he has no jurisdiction to assess the extent to which more than $1 billion in gambling cash has helped First Nations.
"Jim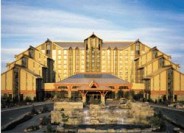 Casino Rama is a popular First Nations casino in Ontario, Canada. McCarter says a new legal opinion concludes that hundreds of millions of dollars in Casino Rama profits are off-limits to provincial auditors. That's because the money never flows through Ontario government coffers, he said in an interview. 'The government never actually sees the money.'
"His independent office consulted an external law firm amid calls from public spending watchdogs for more open scrutiny of how Rama profits are spent.
"…Casino Rama, near Orillia, Ont., opened in 1996 as a means to ease native poverty and promote self-sufficiency. It has cleared more than $1 billion - including $91 million in 2004-05 alone - after winnings and expenses.
"The money is distributed to native communities through the Ontario First Nations Limited Partnership, an oversight agency created as part of a complex deal with the province…"
Casino Rama
5899 Rama Road
Rama, ON L0K 1T0
Canada
Operating 24-hours a day, seven days a week since July 31, 1996, Casino Rama is Ontario's only First Nation's commercial casino. The Casino offers a complete entertainment experience with over 2,300 slot machines, more than 120 gaming tables, nine unique restaurants, a 5,000 seat Entertainment Centre and a 300-room all-suite, full-service hotel, featuring spa and health club facilities. Casino Rama is operated by Penn National Gaming, Inc.