BLACK HAWK, Colorado – As reported by the DenverChannel.com: "Although casinos are exempt from Colorado's new smoking ban, one casino is implementing a no-smoking policy of its own.
"The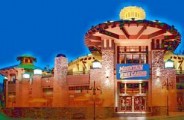 Ameristar Casino Black Hawk now features smokeless restaurants. Black Hawk gambling casino, Ameristar, said it will ban smoking in all of its restaurants, while still allowing smoking inside the casino.
"'We believe the changes we will be implementing are appropriate, legally correct, and accommodating for both our guests and our team members,' said general manager Michelle Shriver.
"Colorado lawmakers exempted casinos from the ban after some intense lobbying. The casinos provide millions of dollars a year in state revenues and the industry said it needs legalized smoking to compete with Native-American casinos that aren't subject to state laws. . . "
Ameristar Casino Black Hawk
111 Richman Street
Black Hawk, CO 80422
Phone: (720) 946-6673
Website: www.ameristarcasinos.com/blackhawk

Ameristar Casino Black Hawk offers two stories of casino action with 1,600 popular slot and video poker products. All machines feature Ticket In/Ticket Out coinless slot technology. The casino has interactive video slots, classic reel machines and single or multi-hand video poker.