Club USA Casino Craps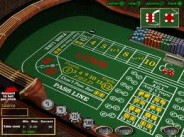 Club USA Casino has good craps action at their site. They offer private, public and reserved tables. The minimum bet is $1 and the max is $500. The casino offers behind the line odds. Nice graphics and sound add up to a satisfying craps experience. Good shooting.
LuckyAce Casino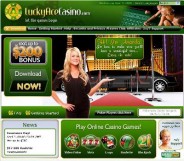 LuckyAce Casino is a new white-label casino that uses 888 software, the same platform that powers one of the oldest and most respected online gambling sites on the web, Casino-on-Net. LuckyAceCasino.com has all the most popular games including: BlackJack, Craps, Video Poker, Roulette, Keno and over two-dozen slot machines with better odds than a Las Vegas casino room. LuckyAce Casino does not accept US players.
DENVER, CO - As reported by CNN.com: "Ameristar Casinos, Inc. (NASDAQ: ASCA) will "top off" its 33-story, 536-room luxury hotel and spa at Ameristar Casino Black Hawk this morning, making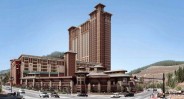 Ameristar Black Hawk Casino it the tallest structure between Denver and Salt Lake City, and signaling the arrival of Las Vegas-caliber accommodations and entertainment to the Rockies when the hotel and related amenities open later this year.
Ameristar will celebrate this construction milestone with a ceremony at 10 a.m. MST. Guests, Team Members and community leaders will add their signatures to a steel beam that will be lifted by a crane to the hotel's top level and placed in its roof. "Topping off" is an important construction milestone because it signals that a building has reached its highest level.
The topping-off follows the Jan. 13 approval by Black Hawk voters of a local referendum to implement Amendment 50, a provision that will liberalize several Colorado casino restrictions. Ameristar Casino Black Hawk will spend the next several months preparing for Amendment 50's July 2 effective date, as well as the scheduled third-quarter 2009 opening of its hotel and spa. The hotel and spa should enable Ameristar to fully leverage the changes allowed by Amendment 50, which include increasing single-bet limits to $100, operating the casino 24 hours daily and adding the games of craps and roulette..."
When the full Hotel opens in 2009's 3rd Quarter, guests can expect the following additions to Black Hawk:
-- A 33-story, full-service hotel with 536 well-appointed rooms,
including 64 suites. All rooms will feature upscale furnishings, including
plasma screen televisions, double vanities, separate tubs and showers, and
wireless high-speed Internet access. Each standard 450-square-foot guest
room will include a king-sized bed or two queen-sized beds and marble foyer
entries. All suites will offer hot tubs, and some will feature double-sided
fireplaces and views of the Continental Divide. All rooms will be furnished
with top-of-the-line mattresses, luxurious linens and premium bath
products.
-- Black Hawk's only hotel swimming pool, along with indoor and outdoor
whirlpool spas set within an open-air heated patio on the hotel's roof. The
pool level will feature a movable glass wall to enclose the pool during
winter months while preserving panoramic mountain views. The pool's setting
will be crafted from dry-stacked quarried stone as well as heavy wood beams
and trusses with wrought-iron details.
-- A full-service day spa, featuring six treatment rooms, hot tubs, sauna
and steam rooms. The spa will offer traditional spa services, including
massages, scrubs, facials, pedicures and manicures. An adjoining fitness
center with state-of-the-art cardiovascular and strength-training machines
will be available to all hotel guests.
-- Almost 10,000 square feet of event and meeting space equipped with the
latest technology, including an event center, pre-function areas and
hospitality suites.
Ameristar Casino Black Hawk
111 Richman Street
Black Hawk, CO 80422
Phone: (720) 946-6673
Website: www.ameristarcasinos.com/blackhawk

Ameristar Casino Black Hawk offers two stories of casino action with 1,600 popular slot and video poker products. All machines feature Ticket In/Ticket Out coinless slot technology. The casino has interactive video slots, classic reel machines and single or multi-hand video poker.