32 Vegas Top Spot for Gamblers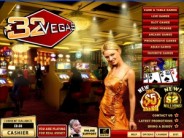 32 Vegas has a huge variety of slot machines, enough to satisfy any slot fanatic. The casino has over 30 video and classic slots to choose from including 7 progressives. You can play as little as a penny per spin all the way up to $5 per line. There are 2,3,5,8, and 9 line slots. Some of the outstanding video slot titles are Gold Rally, Vacation Station and Desert Treasure. Popular classic slots include Fountain of Youth, Bermuda Triangle, and Haunted House. With great variety, fantastic graphics, and innovative themes, 32 Vegas slots are a good thing.
CYPRUS -- 2009 sees the 100th anniversary of International Women's Day, a global celebration where women all over the world can express themselves and where tradition states that men are to honour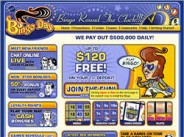 the women in their lives with flowers and small gifts. The industry leading online bingo site, Bingo Day has also decided to honour the women in their lives with a special week-long promotion.
From the 2nd March, Bingo Day will be offering a week of doubled deposit bonuses to all their members. A 50% up to £100 deposit bonus will be rewarded throughout the week on each deposit made, instead of the 25% bonus that is usually offered.
"We wanted to give our players a special present for International Women's Day, not just our female players - after all, giving presents is the tradition of the holiday", explained Casino Manager Ted Cunningham. "The bonus offer will run for an entire week, giving our members the opportunity to play to their hearts content, with the extra bonus money they will receive".
Bingo Day has recently been running a host of unique promotions, including an "Eat Free for a Year" promotion. It was reported that an "Energy Buster" promotion was also highly successful for the online bingo site, where Rosemarie M. of Canada won the chance to have her household bills paid for throughout the year.
BingoDay.com
Cyprus
Website: www.bingoday.com

Bingoday.com is an Online Bingo Hall that offers many different Bingo Halls from 75 and 90 ball games to tournaments, chatrooms and scratcher games to play while waiting between group games. Bingoday.com has games going 24 hours a day so stop by anytime to play!