The Joy of Six Slot simulates craps action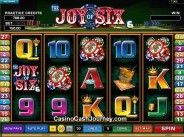 Microgaming's video slot release The Joy of Six allows players the chance to experience the excitement of the enthralling game of craps. Based in a casino environment, the five-reel, 30-payline slot lets players throw the dice in a vibrant world of vivid graphics, craps animations and distinctive sound effects. The large variety of features within the game gives players many opportunities to profit from an enjoyable experience.

Current Craps Conditions in Las Vegas
Providing the number of tables, table odds, table limits, and even field odds for every casino in Las Vegas and its surrounding areas, the 'Ultimate Las Vegas Craps Directory' will help you find the best craps games in town.
LAS VEGAS, Nevada -- Software developer Digital Showcase has announced that its software title 'My Craps Game' now has a new version 1.2 that takes the game playability up a whole level. "My Craps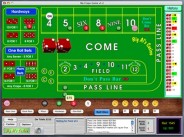 My Craps Game Screenshot Game" is a high level simulation, just for fun, a non-gambling game for Mac OS X and Windows.
"My Craps Game" allows the new player to get in the action by easily practicing the game with no risk, utilizing the extensive online Help. Experts can try their own styles and systems in the most realistic Craps game ever according to many Las Vegas experts. "My Craps Game" is now the only computer Craps game that plays the game the right way, with the right rules and correct Las Vegas odds, providing an excellent simulation of the live game at major casinos.
Retail Product
The game software sells for $19 for Downloads or $29 for the CD which contains both the Windows and Mac OS X versions. "My Craps Game" is now available for consumer sales at the game website: Mycrapsgame.com
Retailers and online content providers are encouraged to contact Digital Showcase LLC to resell the game at lucrative rates for Downloads and CD sales.
New Features in Version 1.2
* Extended Free Odds Limit Options to include the Standard Las Vegas 3X-4X-5X, 5X, 10X and 20X Odds; allowing the player to match the environment that they will encounter.
* A new feature has been added to Return to Rail any existing Place Bet, when Coming Out and the Point is Established on the same number a Place Bet is sitting on.
* Added a new Option for: Put a BUY Button on Place 4 / Place 10 as "Automatic when $25 or more" or "I will put it on myself."
* When a Come Bet is on, if a Seven is rolled, the Come Bet is paid and now returned to the rail.
* When a Point is made and there are Come Bets still on the table, the game will now present a small prompt for Come Bet Odds: On or Off.