Gambling Teachers Ebook
by Gayle Mitchell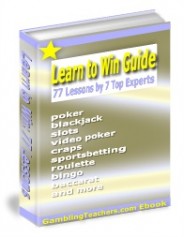 Learn to Win Guide: 77 Lessons by 7 Top Experts. 10 Program Chapters: 1) Poker-7 Games. 2) Blackjack. 3) Craps 4) Video Poker 5) Slots 6) Bingo & Keno. 7) Roulette. 8) Other Games: Baccarat & European Games. 9) Sports Betting and 10) Gambling Strategies-Tips from the GT team. Chapters 11) Online Gambling and 12) Gambling Teachers Blog, Lesson 77 completes the Guide. PDF format.


Get the Edge at Craps
by Chris Pawlicki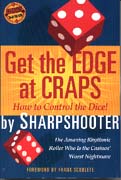 The author, nicknamed The Sharpshooter, has a background in math and physics and applies several of those principles in regard to how to hold the dice and how to launch them in a casino. There are sections of his work devoted to 'the grip' and the delivery; how to practice‹how to form a 'team' of people who single-handedly can create a hot table. The book contains a section on 'muscle memory' and explains how to select, master and apply a new delivery technique in under a month. It takes you from the basics to more advanced concepts and includes a history of the evolution of the game; how the table is designed. There's advice on how to get personal lessons after you've read the book as well.