Dice: Deception, Fate & Rotton Luck
by Ricky Jay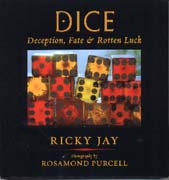 Jay rolls the history of dice in this entertaining and informative volume that takes readers from the earliest forms made from animal hooves, to those made from ivory, celluloid, and plastic. He also charts the infamous players of history, accompanied by Purcell's seductive photos. 13 photos.

Casino Gambling : A Winner's Guide to Blackjack, Craps, Roulette, Baccarat, and Casino Poker
by Jerry Patterson
If you're planning a trip to Vegas or any other casino gambling destination and want some quick and easy-to-follow advice to give you a good shot at coming home a winner: Read Chapter 7 for blackjack advice, Chapter 13 for craps advice, Chapter 17 for roulette advice, Chapter 18 for baccarat advice or Chapter 19 for advice on the popular variations of casino poker.