Wong on Dice
by Stanford Wong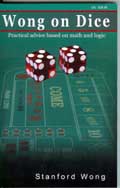 In 13 chapters, noted blackjack and casino games expert Wong explains how to get the best of the craps table. He explains how to toss the dice to legally influence them, how to bet, how to play in the casino, practice tips, and money management. The section on tossing the dice is the meat of the text, describing everything from the grip to the alignment to repetitive stress activity.

Fundamentals of Craps
by Mason Malmuth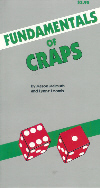 Perfect for the beginner. Part of casino master Malmuth & Loomis' Fundamentals series which discusses the history of the game, getting started, the layout, crew, basics of play. Moves immediately to the Right bets, including the Pass Line, taking odds, Come Bets. Next are the Wrong bets, including the Don't Pass Line bet, laying the odds, and the Don't Come bet. Explains multiple roll bets and one roll bets. Small section on money management, systems and Oscar's Grind.