The Craps Answer Book
by John Grochowski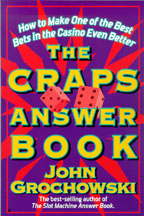 If you're looking for fast-paced excitement, just follow the cheers and jeers of players winning or losing together. The noise will lead you straight to the craps table. But how do you separate the good bets from the bad? Do combination bets cut the house edge? And what does an ancient game called Hazard have to do with this, anyway? The Craps Answer Book will have you rolling in no time.

Gambling Teachers Ebook
by Gayle Mitchell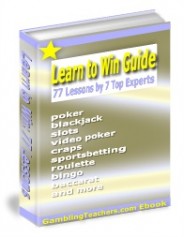 Learn to Win Guide: 77 Lessons by 7 Top Experts. 10 Program Chapters: 1) Poker-7 Games. 2) Blackjack. 3) Craps 4) Video Poker 5) Slots 6) Bingo & Keno. 7) Roulette. 8) Other Games: Baccarat & European Games. 9) Sports Betting and 10) Gambling Strategies-Tips from the GT team. Chapters 11) Online Gambling and 12) Gambling Teachers Blog, Lesson 77 completes the Guide. PDF format.