Black Gangsters of Chigago
by Ron Chepesiuk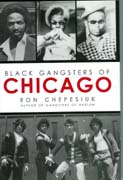 When we think about Chicago-style gangsters, we often think of names like Capone and Gincana. But as powerful and brutal as these guys and their underlings were, an equally fearsome group populated the Windy City. They were the African American mob bosses such as Mushmouth Johnson who was responsible for a long era of underground gambling halls, political bripery and election fraud and the more modern crew such as the Blackstone Rangers and up to the 2003 assassination attempt that left convicted cop killer Willy Lloyd paralyzed. Lloyd ommanded his gang while in jail.

Gambler's Guide to Taxes
by Walter L. Lewis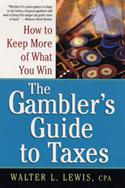 The Gambler's Guide to Taxes:How to Keep More of What You Win goes through the steps in simple, straightforward terms that make it seem easy to get your gambling taxes in order. It is a welcome addition to your gambling library. Its common sense suggestions can save you money - and grief - if and when you finally make the big score.