Internet Gambling
by J. Phillip Vogel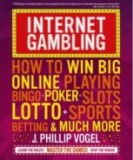 Subtitled 'How to Win Big Online Playing Bingo, Poker, Slots, Lotto, Sports Betting, and Much More ,' Internet Gambling consists of twenty-three engaging and descriptive chapters where Vogel demystifies and dissects all topics related to Internet gambling, including the history of online gambling, how to get started, choosing the best sites, understanding the various kinds of software available, the technical difficulties one might expect to encounter, managing money, and more.

Unofficial Guide to Las Vegas
by Bob Sehlinger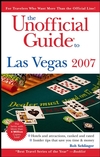 Here's the perfect companion for the person who really wants to plan a trip to Las Vegas and know what to expect in regard to hotel, show, transportation and food prices, room rates etc. The unique approach of this book is matched by no other reference source—telling you how long it'll take you to go from one location to another by foot or taxi, how much it would cost by public transportation. The book describes the major showroom attractions and usual show times, where to make reservations, how much you can expect to pay, the nights of the lowest attendance, how long the show lasts, and rates the show's appeal to different age groups. You'll also find out if the show involves topless dancers, whether tips are included in the price, and a description of the show's contents (so you can see if it's suitable for children, a conservative group, etc.).There's a description of off-Strip bars, lounges, hangouts, their hours, cost of drinks, if there's a minimum, type of crowd it appeals to.