Advantage Play For The Casino Executive
by Bill Zender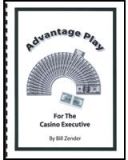 When you hear about famous card counting teams, such as the MIT group, you're getting only part of the story. The weapons in the arsenals of these players are truly amazing-and they're described in detail here. In addition to blackjack strategies, Zender writes about biased roulette wheels, playing with hole-card information in Three Card Poker, and the latest debate on whether dice can be controlled with "rhythm rolling" (he's dubious). For video poker players, there's a big section on combining return percentages, cashback, and promotions to gain an edge (Bob Dancer style).

Cruising the Casinos with Syndicated Gambling Columnist John Grochowski
by John Grochowski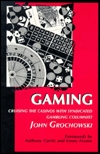 A collection of John's newspaper columns originally published in 1994 and '95, Gaming takes you through his mix of essays, questions from readers and quizzes on topics ranging from blackjack strategy to roulette systems to compulsive gambling.