21st Century Fraud
by Tony Lesce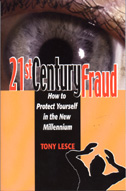 The back cover of this book explains it all by first asking: What are your chances of being murdered this year? (With about 20,000 murders a year in the U.S. out of 300 million people, your chances of being a victim of homicide are small.) Then by asking: What are your chances of being victimized by fraud? Much greater, comes the answer. In fact, so much greater that it's almost impossible to measure the risk. Fraud ranges from identy theft to telephone scams, computer and Internet fraud, retail store scams, fund-raising scams and more. This book is designed to show the reader the basics of fraud techniques, make the reader aware of where the dangers are and teach the reader how to protect himself against the possiblity that a fraud artist might fleece him.

The Unofficial Guide to Casino Gambling
by Basil Nestor

Basil Nestor incorporates decades of gambling knowledge to give the reader insight into probability, common gambling mistakes, and winning strategies in his popular book, The Unofficial Guide to Casino Gambling. Covering all the bases of casino gambling including machine games (slots and video poker), table games (blackjack, roulette, craps, baccarat, poker), and waiting games (keno and sports betting) the book also has sections on how to get casino comps, gambling systems, a history of gambling in the US, and much more.