Gambling Theory and Other Topics
by Mason Malmuth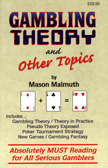 Gambling expert Malmuth covers topics ranging from non-self weighting strategies; sequencing; inversely correlated poker games to theory in practice; fluctuations; money management; computing your standard deviation; poker lotteries; betting and game theory. Poker tournament strategy is contained in a special section, where he also briefly discusses Pai Gow Poker and Super Pan Poker under New Games.

I'll Do My Own Damn Killin'
by Gary Sleeper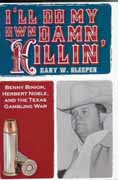 Benny Binion was a larger-than-life casino mogul who was build a legend for himself in Las Vegas. But before that, he led the Texas underground in a gambling war that lasted over fifteen years before he was "sentenced" to Las Vegas where he became the patron saint of World Series of Poker. In this new look at the man author Gary Sleeper presents previously unseen details of Binion's pre-Las Vegas life and spices it with electrifying details and sharp wit.