A History of Playing Cards
by Catherine Perry Hargrave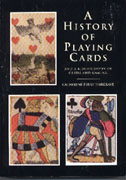 This is actually a reissue of an old book that went out of print as a hardbound. Subtitled A Bibliography of Cards and Gaming, it includes an enormous annotated bibliography of more than 900 items on playing cards and games, and over 1,400 illustrations. Praised as the most authoritative and complete treatment of its kind, the book is profusely illustrated and gives a fascinating overview of heraldry, geography, history, and the social and political activities of man over the past six centuries. Includes playing cards of the West and of China, Japan, India, Europe, and Russia.

Cruising the Casinos with Syndicated Gambling Columnist John Grochowski
by John Grochowski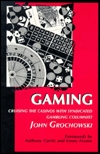 A collection of John's newspaper columns originally published in 1994 and '95, Gaming takes you through his mix of essays, questions from readers and quizzes on topics ranging from blackjack strategy to roulette systems to compulsive gambling.