Gambling Theory and Other Topics
by Mason Malmuth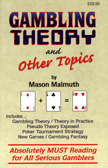 Gambling expert Malmuth covers topics ranging from non-self weighting strategies; sequencing; inversely correlated poker games to theory in practice; fluctuations; money management; computing your standard deviation; poker lotteries; betting and game theory. Poker tournament strategy is contained in a special section, where he also briefly discusses Pai Gow Poker and Super Pan Poker under New Games.

Cruising the Casinos with Syndicated Gambling Columnist John Grochowski
by John Grochowski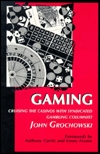 A collection of John's newspaper columns originally published in 1994 and '95, Gaming takes you through his mix of essays, questions from readers and quizzes on topics ranging from blackjack strategy to roulette systems to compulsive gambling.