Supermob
by Gus Russo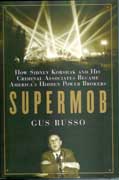 How does a man with no phone, no office, and no files become the most powerful man in politics? This book is an explosive story of the criminal underworld and its covert takeover of American politics, business, and entertainment. It's the tale of a cadre of powerful men who, over the course of decades, secretly influenced nearly every aspect of American society, including such famous (and infamous) folks as Jules Stein, Ronald Reagan, Abe Pritzker, Lew Wasserman, and John Jacob Factor -- as well as numerous other meticulously low-profile members. At the heart of it all is was the Chicago Outfit and its fair-haired boy, Sidney Korshak, aka 'The Fixer'" who from the 1940's until his death in the 1990s, was not only the most powerful lawyer in the world, according to the FBI, but the enigmatic, almost vaporous player behind some of the shadiest deals of the 20th century: from hitherto undisclosed California land grabs (the real 'Chinatown' story) to Hollywood quid pro quos, from casino monopolies to underhanded hotel deals. As the underworld's primary link to the corporate upperworld, Korshak's backroom dominance and talent for anonymity remains unparalleled.

Resorting to Casinos: The Mississippi Gambling Industry
by Denise von Herrmann (editor)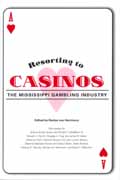 This book seeks to begin the conversation about the effects the industry and its dramatic growth have had on the politics, culture, and people of Mississippi. It provides insight into the ongoing debate as to how well the casino industry and Mississippi fit together. Political scientists, economic developers, sociologists, and policy analysts provide essays on such topics as the casino workplace, casinos and crime, the historical and cultural influences of casinos, and the economic ramifications. It provides the first multidisciplinary examination of the casino resort phenomenon in Mississippi. Additional information updates new gaming laws in Mississippi that will allow casinos to build inland on the Gulf Coast.