Fooled by Randomness
by Nassim Taleb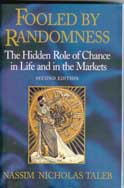 In its second edition, Fooled by Randomness is now a cornerstone for anyone interested in random outcomes. Published in 14 languages, this new edition, expanded by over 80 pages, includes up-to-date advances from behavioral finance and cognitive science. This book is about luck or more precisely how we perceive and deal with luck in life and business. It is already a landmark work and its title has entered our vocabulary.

Henry Tamburin on Casino Gambling
by Henry Tamburin

One of the most prolific and respected authors on the subject of gambling presents more than 75 of his previously-published articles from many other publications, now under one cover. In 8 chapters, he covers a wide spectrum of games, including the basics of craps. blackjack, slots, video poker, roulette and poker.