Identity Theft, Inc.
by Richard Marcus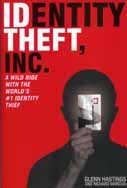 Identity theft is the crime of this century. Just ask Frank Abagnale of Catch Me If You Can fame. He states so in the Q&A of the latest edition of that book. So here, then, is the true-crime book of this century. This is the first book on the subject from the inside, told by someone who's assumed hundreds of identities and become rich off it. Not only does the author reveal how ID theft is done, he tells loads of wildly unbelievable but true stories about his impersonations as they led to riches. Some of them are as funny and outrageous as they are amazing.

Casino Game Protection: A Comprehensive Guide
by Steve Forte

The most important, definitive treatise ever presented on the methods, detection and prevention of Casino Scams, Theft, Card Counters and all Advantage Strategies! A complete, one-volume course in the science of casino game protection, an invaluable training tool for management, pit personnel, surveillance, security, and related law enforcement agencies, and a must read for all gamers hungry for knowledge! Topics include Cheaters, Advantage Players, Gaming Law, Electronic Player Assistance, Procedures, Surveillance, Myths, Game Protection Mathematics, Training, The Future of Game Protection, and much, much more. Limited Edition.