The 2013 American Casino Guide
by Steve Bourie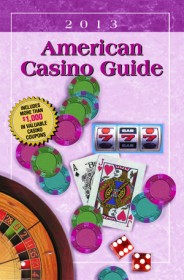 The American Casino Guide has been published annually since 1992 and is the most comprehensive book available for information on all U.S. casinos including all casino/resorts, riverboats and Indian casinos.

The new 2013 edition includes detailed information on more than 700 casinos in 40 states, plus it includes 203 coupons valued at more than $1,000! The coupons can be used now in 2012 and are valid until late December 2013.

Henry Tamburin on Casino Gambling
by Henry Tamburin

One of the most prolific and respected authors on the subject of gambling presents more than 75 of his previously-published articles from many other publications, now under one cover. In 8 chapters, he covers a wide spectrum of games, including the basics of craps. blackjack, slots, video poker, roulette and poker.